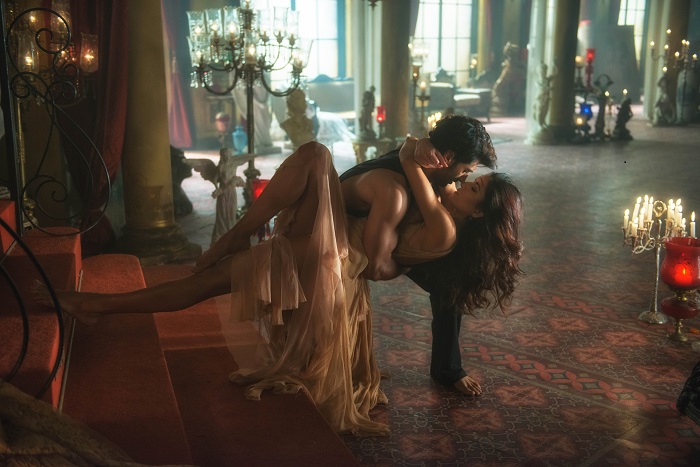 Abhishek Kapoor\'s fourth film; his first after Kai Po Che
A desi adaptation of Charles Dickens\' 13th novel, Great Expectations
Powered by Tabu, halted by Katrina
Rating: 2 stars
If Fitoor were an actor, she'd be Katrina Kaif - undeniably beautiful, easy on the eyes, but irretrievably empty within. This much, the creators get right.
Unfortunately for us, the film hinges heavily on her being and un-being. As Firdaus, an entitled girl taught to fear love by her eccentric mother (Tabu), she had everything going for her. The character she represents revels in its undefined edges and enigmatic motivations. It requires her to be unpredictable, cold, ambiguous and even distant. And she is all that, but only as a performer - like in most of her films.
There is literally no right or wrong way to portray Firdaus; she is a blast from the past and a glimpse into the future. Even so, somehow, Kaif falters. As a result, Noor (poor Aditya Roy Kapoor), the tortured toy of her affections, comes across less as an obsessive lover/artist, and more as a man unable to tolerate Kaif's perpetually plastered half-smile. This is also the millionth time her indecipherable accent is justified by a mentioned-in-passing London stint. The film is supposed to be about him, and it is, until it becomes impossible to believe that he pines for a human whatsapp emoticon.
From the first frame, it's apparent that director Abhishek Kapoor adores Charles Dickens' Great Expectations. He imagines it - just like many who read the book did - in vast hues of lyrical prose and vivid imagery.
A cinematically fertile land of conflicted extremes, Kashmir once again serves as the backdrop after Vishal Bhardwaj's Haider. Here, though, this environment is rarely anything more than a gorgeous blanket of snow or pretty bed of autumn leaves. Some superficial traits aside, it is seldom a device of political or narrative significance.
But it's even more apparent that Kapoor is an admirer of Alfonso Cuaron's hypnotic 1998 adaptation. Despite its derivative nature, it was a work of truth and originality. It had its own language, its own sights, sounds and whispers of unrequited love.
Tabu, the real Fitoor
It's no coincidence that the striking portions of Fitoor, therefore, are the parts loyal to Cuaron's version: the introduction of a terrorist, little Firdaus (Tunisha Sharma) and her mannerisms - down to her uppity walking style, and Tabu's immortal lines. "Kya dil toota hai tumhara," she nonchalantly remarks to Noor on the occasion of his finest artistic exhibition. There's nothing like a broken heart to fuel creativity, she seems to suggest. But then again, does she realize that? With Tabu and her nuanced intonations, it's difficult to tell. Her internal struggle is palpable only because she struggles to accept it.
Feeling so strongly is good for a filmmaker, but not so much for a storyteller. Being a fan of the work to be interpreted presents its own set of problems: the line between gushing homage and inspired craftsmanship is irreparably blurred. Cuaron had distanced himself from the tale and imagined it within the confines of contemporary pop culture. Kapoor does the same while being fatally attached.
Too close to be objective
In the process, he designs a theoretically indulgent journey; one that assumes its inherent classical status and presumes that everyone is familiar with it. Because he has felt the stories of Pip, Estella and Miss Havisham, he forgets to tell it to those who haven't. There are certain revelations that needed to be heightened, certain moments that lend themselves to theatricality and punctuations. But he glides over them as if they're inevitable. As if they're expected.
I've always imagined Estella (and, by succession, Firdaus) to be a young lady keenly aware of how unattainable she is precisely because she is flaky. Her mood swings - from pleasant to bored to cagey to needy - are expressed by the faintest lip twirl. She is heartless not by instinct, but by practice. Kaif, however, makes her a woman who pretends to be the way she is. She acts it, and hence abandons all complexities. Fitoor, in turn, becomes a work of controlled madness and fabricated passion.
It leaves one with the idea of eternal love, like Lootera did, only because its craft screams romanticism. Because the snowflakes and cinematography and poetic interludes say so. The eyes don't. Timelessness has never been more elaborate. And, dare I say, disengaging.