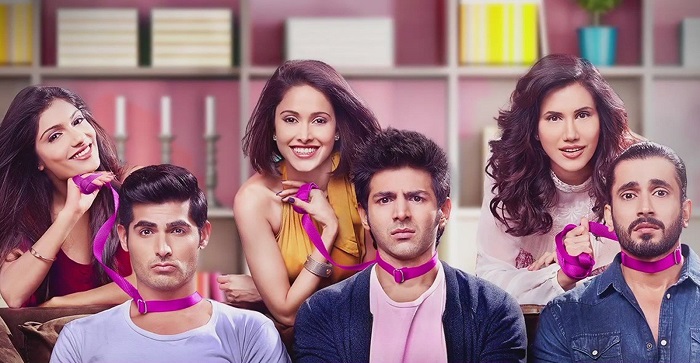 The Pyaar ka Punchnama franchise has a very specific kind of appeal. It attempts to explore the landscape of romance and urban relationships solely through a man's eye. Or more specifically, an Indian male's eye.
Invariably, these are visions of stark blackness or blinding whiteness, with nothing in between. Unlike the ongoing YRF web-series Man's World, it doesn't pretend to understand or sympathize with the female form. It openly caricaturizes sexism, and takes a path considerably less complicated. This could be entertaining or offensive, depending on who you are and where you're from.
Once upon a time, I was the Target Audience
I was 25 when the first one released in 2011. As is the case with most adults navigating the shadowy lanes of love in big cities, it was a particularly heady phase. I remember being pleasantly surprised by writer-director Luv Ranjan's perceptiveness. I had a target on my head because I was only beginning to rationalize the gender politics of love. Instead of familiarity breeding giggles, it bred contempt and a chest-beating feeling of belonging and brotherhood. While watching three Gurgaon bachelors survive doomed relationship cycles, I felt represented. A part of me believed that it wasn't only because I was a growing man lapping up glorified therapy sessions made for, by and about men.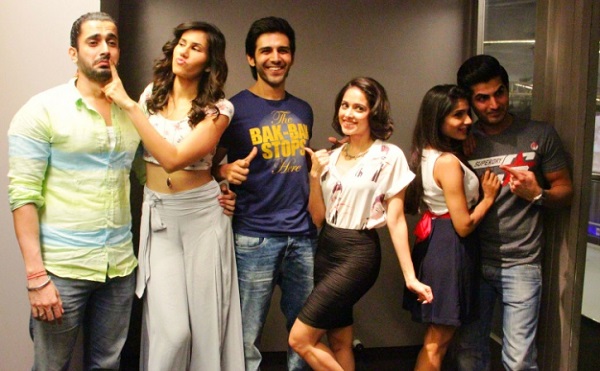 Bollywood's Delhi obsession began with PKP; must end with PKP 2
Four years and countless testosterone-pumped Delhi buddy flicks later, it's clear that I've outgrown my fondness for its premise. Or perhaps, I've simply grown. Because Ranjan's formula is at the mercy of time. And age. And sex. And experience. And technology. The first film exploded onto the scene before online parody skits became staple fare in India. Which is why its many quirks and behavioural nuances were appreciated.
However, instead of updating his interpretation, Ranjan simply recreates it. Instead of updating its social significance, he updates its aesthetics instead - the scripting equivalents of actors changing characters by simply buffing up their bodies. Or like making Pyaar Ke Side Effects twice over, instead of letting it naturally morph into Shaadi Ke Side Effects. In doing so, he makes it clear that - evolution or not - generations of boys become men only after having their hearts stomped over by fickle, unlikeable, flaky women. Unfortunately, this is presented more as life's only truth than just another entertaining example of observational storytelling.
Why does Part 2 always have to be 'The Return of Part 1'?
This is a sequel strictly in the Indian sense of the term - a digit is added to the title, some actors are retained, and the same graph is constructed in a shinier, glossier and louder way. Ironically, it's the new budget-heavy (and skin-heavy) packaging that robs the characters of their plausibility. For instance, the three men sharing a flat aren't fresh-out-of-college yuppies; they're full-grown working professionals with considerable incomes.
And the flat is more of a designer penthouse suite, straight out of an extravagant pimp-your-crib episode. Perhaps they're older versions of the Pyaar ka Punchnama guys - men with the physical luxuries of adulthood and the mental capacities of boyhood. Or perhaps they're living together because the script won't work if they evolve.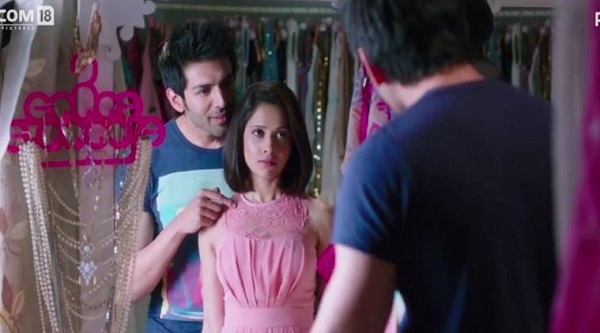 Men work harder than Matt Damon in The Martian to stay afloat
Ranjan once again treats the wooing phase in a mad rush to get down to business. The three chaps mistake lust for love, heaving bosoms for beating hearts and naked torsos for elegant waistlines. The three women return from the original in different avatars, all equipped to play the girlfriends from hell. Each of them are exaggerated stereotypes; Nushrat Bharucha is the selfie-loving diva with nosy roommates and a male best friend, Ishita Sharma excels as a gold-digger under the guise of principles and values, and Sonalli Sehgall is the quintessential Shaadi.com family girl biding her time.
Kartik Aaryan, who returns from the original, once again exists for his resounding 8-minute girlfriend-hating monologue whose essence is best summarized by the hash-tag #WhatMenWant. Omkar Kapoor is the sorted chocolate-boy engineer. Sunny Singh gamely plays the virginal inexperienced sod, and merits a direct comparison with 'Liquid' from the original - the endearing man-child essayed by Divyendu Sharma, who has somewhat lost his way after 2011.
Also read: #CatchChitChat: Pyaar Ka Punchnama 2 boys Kartik, Sunny, Omkar promise the sequel will be a fun ride
Where scripting is limited to moments of misogynist banter
As expected, the film excels in moments of verbose male pondering and crude chemistry. As is typical with multi-narrative rom-coms, their journeys are synchronized to the point of being mechanical. If one couple argues, expect the other two to find immediate points of conflict. Except for physical intimacy, each of their emotional beats occurs on the same timeline.
Every experience is repeated thrice over. It'd be far more interesting if none of graphs coincided with each other, while hurtling towards the same conclusion. It's in these contrasts that the glorious uncertainties of real life are reflected.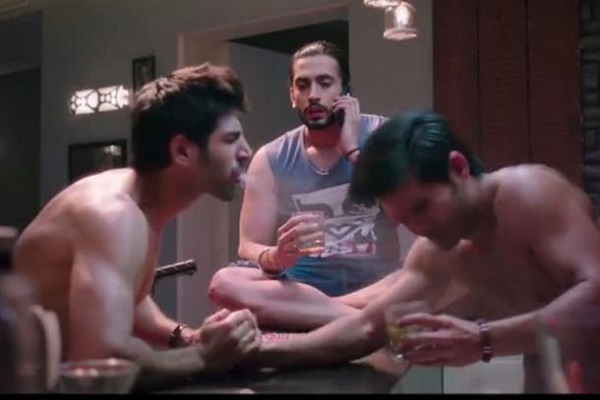 My name is Man and I'm not a subscriber
It's a pity that Ranjan's scope remains limited, because he has a keen understanding of pop culture and its significance in modern-day bonds. His writing often invites viewers to identify traits, and then revel in their acquaintance with on-screen personas. But Pyaar ka Punchnama 2 rarely rises above being a wry assortment of self-aware caricatures. Times have changed. It's imperative that our filmmakers chronicling the times adapt - and change - too.
Rating: 2 Stars