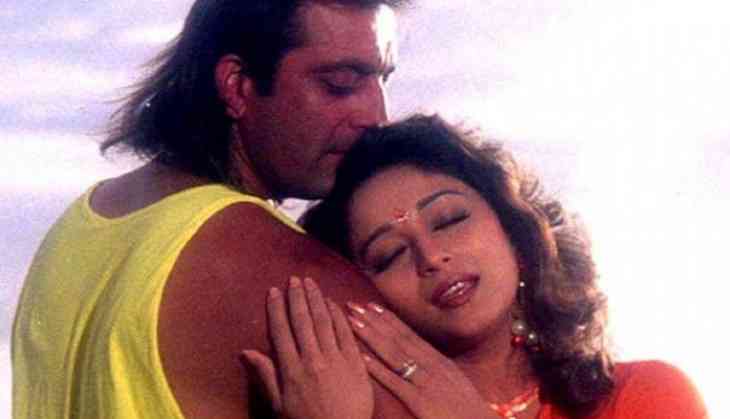 Sanjay Dutt-Madhuri Dixit
Karan Johar dropped the teaser of his movie Kalank and is making noise everywhere, fans are getting mad over it and are eagerly waiting for the trailer as well the movie. This movie is just an epic but will also mark the reunion of Sanjay Dutt and Madhuri Dixit after 22 years of gap. Everyone is talking about the duo and looking forward towards their chemistry in the movie, the reason why it is the talk of the town because once they were rumoured to be romancing each other and were about to get married before Sanjay got embroiled in the arm controversy and was sentenced to jail. It is said that due to this they had an ugly breakup that's why they both sharing the same frame is the talk of the town.
In fact, a few years back also they both were at war, when Sanjay was asked about Madhuri making her come back in the silver industry in Koffee with Karan's show to this he said that she should go back to the USA and should take care of her children. But now everything is in past for both Sanjay and Madhuri and look upon each other with respect.
At the launch of the trailer when Sanjay was asked about reuniting with Madhuri, he said that its a pleasure to work with her after so long and feels great that he is working with her again. He also added that he will try and work with her in more films in future.
While, when Madhuri was asked the same question she said that she is working with Sanjay after 20 plus years, in fact recently she reunited with Anil Kapoor as well for Total Dhamaal. She added that it's always wonderful to work with co-actors one has worked with before and it was wonderful working with Sanjay.
Meanwhile, Varun interrupted and revealed that, while they all would address Madhuri as "Ma'am" because she is senior to them, even Sanjay Dutt would address her as "Ma'am" on the sets of Kalank. To this, Alia then asked Varun that he should learn from Sanjay and address her as Ma'am to which Varun replied that he address her as Alia Ma.
Abhishek Verman's Kalank is slated to release on 17th April this year.