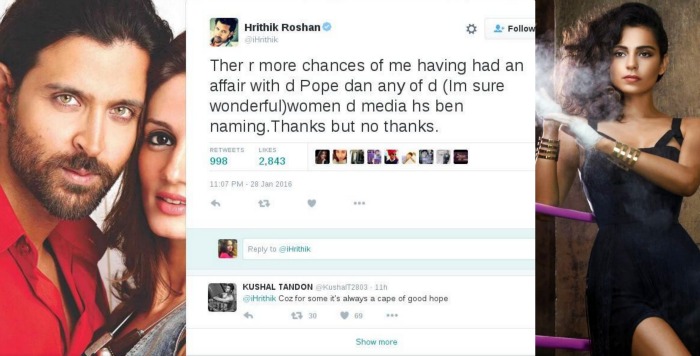 I was in seventh grade when Kaho na Pyar Hai hit the theatres. Through my teenage eyes, Hrithik Roshan looked a lot like a cross between Mr Darcy and Rhett Butler.
Needless to say he was my first celebrity crush.
Today, as I woke up to the news of his inglorious tweet - which reeks strongly of an adolescent boy's hurt ego - that old love has officially left the building.
Well Mr Roshan, nobody really gives a flying duck about whether or not you were secretly dating XYZ during Krrish 3, or ABC during Kites, or LMN during Yaadein.
We do however give several ducks, and an animal farm, about the tone you took to deny the rumours of dating Kangana Ranaut.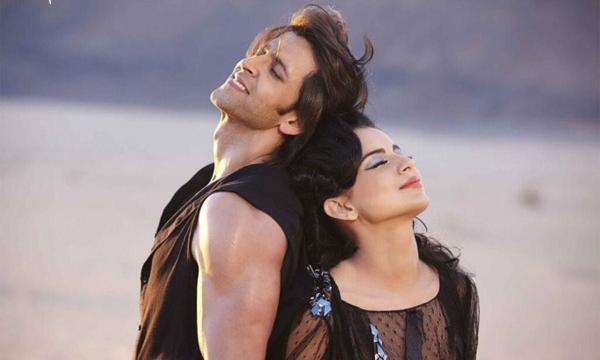 Before this talk of animals leads you astray, here's the lowdown on what happened.
Rumour had it that Hrithik Roshan and Kangana Ranaut were secretly dating during and after Krrish 3. A rumour that was confirmed by neither, and was in the the terrifying danger of dying out altogether in 2015.
That is, until reports of Hrithik getting Kangana 'kicked out' of Aashiqui 3 sent the tabloids into a tizzy.
Responding to the news, Kangana told Pinkvilla.com that 'exes do silly things to get attention'. She also said 'that chapter is over' and announced that 'she doesn't dig graves.' #OkayThen
Granted, that was a weird response to a rumour she had formerly denied. But nothing can justify Hrithik's reply, which is the Twitter equivalent of a foot-stomping.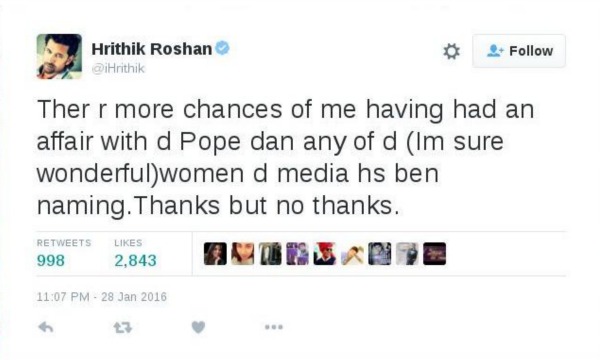 We have a few questions for you, Mr Roshan.
a) There are more chances of you dating the Pope than a woman who dared to call you a 'silly ex'? So much for age and maturity being a packaged deal. #ArentYou42?
b) mst u rly rite lyk dis?
But then perhaps, we shouldn't be so surprised by Hrithik's verbal diarrhea.
After all, this is a man who released a statement announcing his divorce by throwing his ex-wife under the bus. his statement read: "Sussanne has decided to separate from me and end our 17 year relationship. This is a very trying time for the entire family and I request the media and the people to grant us our privacy at this time.
I do not wish this news to disempower my fans and the people about the institution of marriage in any way. I am a firm believer in this institution and respect and honor it at the highest level. And once again I thank my fans for all the concern and prayers for my health, my treatment is going well and I should be able to resume my life in every way very soon. Thank you."
Basically, Hrithik said that his wife decided to end the marriage, not him. Thanks for letting the whole world know that.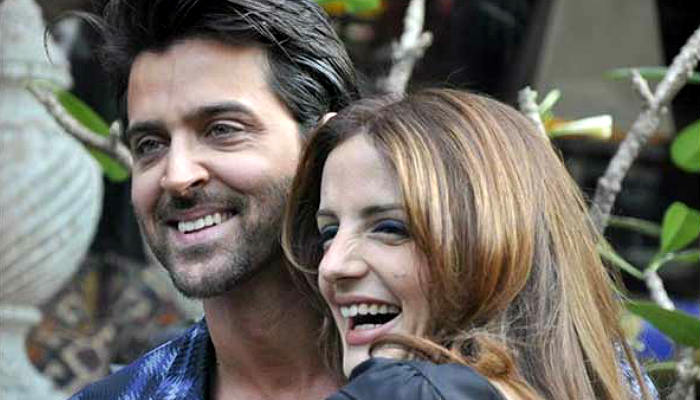 While we're all for celebrities speaking their mind, must we really get down to a diatribe that sounds like words from a seven-year-old?
Tsk Hrithik. So much for you being a childhood crush.