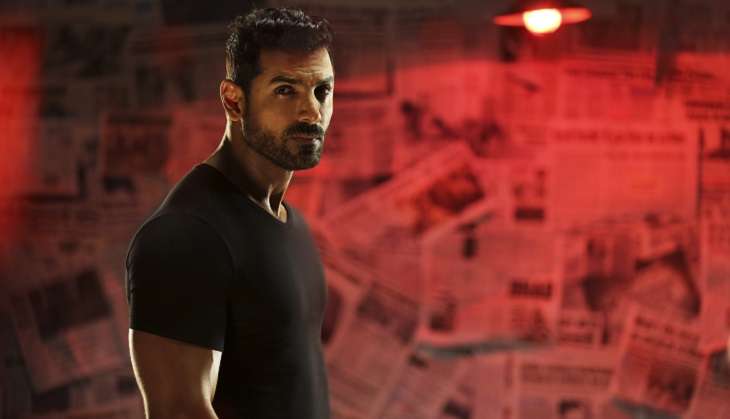 John Abraham up his obsession with the action genre by another notch with his forthcoming film, Force 2. The actor talks passionately about safety measures while doing stunts, how he equips himself mentally to handle injuries and his preference for quality films.
There have been worrying reports recently of actors' deaths while enacting film stunts. You are known for your stunts but do you think it is worth risking your life?
If there are enough safety measures, I think there is no harm in doing stunts. As actors, we get excited; we want to jump. Of course if you are an idiot or your producer is irresponsible, you will get hurt. If there are no safety standards then you will have a problem. Those situations do arrive ... but when I saw the Force 2 trailer I really enjoyed the scale of the action. Tahir (Raj Bhasin) and Sonakshi (Sinha) were also doing their own stunts so i's a lot of fun. There are dancing heroes who like dancing; and action heroes like action. I enjoy this space.
You hurt your knee and it had to be operated on. How did you mentally tackle this phase?
My family has taken me many times to the hospital due to action scenes. Whether my legs are broken or my hands are broken, the idea is not to worry about how you get hurt. The post operation is very important. You know how people react -- when I am walking with an injury, people go, 'Oh! You got hurt!'. Your time starts then. You want to get back. You want to do some squats and get fit again. The mind set is very different. It's about how you are going to be fitter now ... the injury helps you become bigger, stronger and tougher because till then you were sleeping and taking your life for granted but when you get hurt you realise that life is precious.
Do you think the risks find appreciation?
I just want to tell people that we have worked really hard on our film. We did get injured with it; it's not a glamorous life. I am not just speaking about me but for every actor in my fraternity. Sonakshi could have got hurt ... thank God she didn't. Tahir could have got hurt very badly as he has done a dangerous stunt.
Unfortunately, I got hurt. It's an honest and incredible film. Director Abhinay Deo and I were always fascinated about a film on RAW agents. We were very clear that we want to make a commercial film not a documentary, and Force 2 is a hardcore commercial franchise. It has fighting and songs but still it's credible.
When you walk out you reaction will be "The film made sense."
Do you think Bollywood action has evolved?
Yeah, we are safe but I hope we get safer. Currently, we employ foreign action directors but, I think we need to understand that if we are shooting at home I need my action director to have the technology and the harnesses to protect not only me but more importantly my stunts men. Action is not jumping on a wall like a monkey, it's an attitude. We do classes but stuntman performs it overnight and gets injured sometimes. Do we even ask them what their name is? We need to give them the credit and the respect.
What do you expect from this film?
I feel the audience is the final decision maker; I want them to support and appreciate our effort. Trust me, I have learnt the hard way. I just put my head down and do my work. I don't have an ego, but I have self respect. Lows are a part of everybody's life. I have always gone the hard way; it has not been easy for me to reach till here.
Everything I have done has been questioned from the time I have come into the industry. But I have convinced myself that I can do it.
Do you think the demonetisation of currency notes will affect the business figures of your film?
The film has to be good. Whether it does Rs 50 crore or Rs 150 crore it doesn't matter. Madras Cafe didn't do the business that larger commercial films do but if you compare it to those films maybe you will find it a better film. Similarly, Force 2 is an incredible film.
Ami Sheth, Bollywood News Service