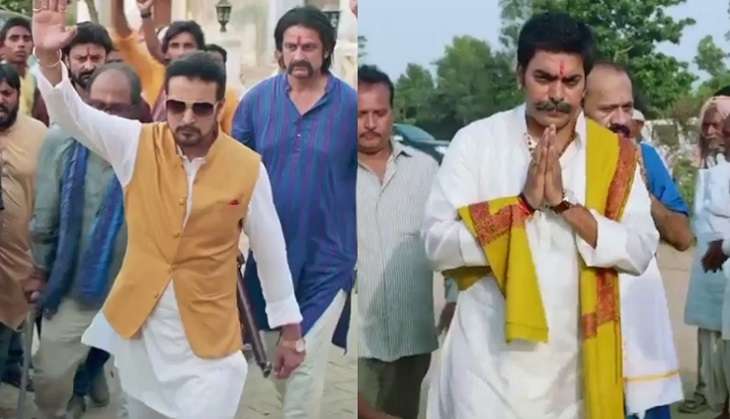 Loosely based on the 2013 Muzaffarnagar riots
Stars Ashutosh Rana and Jimmy Shergill as rival politicians
Immensely forgettable display of mediocre storytelling
Rating: 1 star
Over the last few years, I've grown increasingly wary of Hindi-language political dramas. The first sign is usually the presence of Ashutosh Rana and his twirled moustache. His name is almost always Chaudhary, because apparently he looks like one. This is an immediate deal breaker. A close second is the overwhelming presence of UP or Bihar, Royal Enfield bikes, Scorpios, rifles and Jimmy Shergill. The third, and most important, is if the release is delayed by a meaningless controversy or ban. Shorgul, a horribly bastardized and deformed version of the 2013 Muzaffarnagar riots, ticks all these boxes like an eager by-the-book first bencher. To be fair, it doesn't have the other omnipresent usual suspects, Yashpal Sharma and Sanjay Mishra.
Muzaffarnagar becomes Mariyabad, Sangeet Singh Som is Ranjit Om (Jimmy Shergill), Azam Khan is Alim Khan (Narendra Jha), Akhilesh Yadav is Mithilesh Yadav (Sanjay Suri), and the riots are a comically choreographed trishul-fest with a mandatory Indian-Ocean-ish throaty rock ballad scoring slow-mo mob violence. If you notice the extras closely, they seem to be swaying more to the music than flying swords. Suddenly, Prakash Jha's political masala-zones reek of elegance and subtlety.
Here, in true Bollywood style, at the core of all communal unrest lies a perpetually sobbing girl torn between a friend-zoned boy and her older fiancé.
Bright-eyed Muslim girl Zainab (Suha Gezen) is going to marry Salim (Hiten Tejwani) - a liberal, until he gets jealous of her childhood friend Raghu (Anirudh Dave), spurred on by his devilish extremist brother (Eijaz Khan). Raghu is good politician Chaudary's son. Evil bro has a scar on his neck that looks like skin-colored chewing gum. He kills Raghu, who, before dying, must have hoped to die twice more after he hears her scream, "How dare you love me? I'm someone else's property." After being stabbed, while hanging off a bridge, Raghu also has the time to make Salim promise that he will take care of her. So Salim spends the next half an hour blocking her from his incompetent brother's knives and bullets like a goalkeeper. All hell breaks loose, and we see strategically placed slippers on streets, dead bodies, har-har-mahadev chants and burning tyres.
Not for the first time, we're told about the perverse nexus between religion and politics - through a generic item number, two abrupt romantic dream songs, backbiting sidekicks, and sincere cops who keep repeating, "But sir, sheher ka mahol kharaab hai."
The problem with such films is the stubborn commercial template they blindly adhere to. The makers, who often consider their research to be done by simply belonging to a troubled region, set out to sensationalize history. Yet, without bothering to understand how tonal consistency and script continuity works, they end up making abominations in the name of "hard-hitting" cinema. The music gets all cheery when a girl and boy appear on screen, ominous when politicians hatch corrupt plans and goofy when some idiot cracks a joke. It's like watching a movie proud of its own multiple identity disorder syndrome.
Perhaps it should have stayed banned - solely on creative grounds. The sorry existence of Shorgul is almost as exploitative, unnecessary, insignificant and irresponsible as Ramgopal Varma's 'The Attacks of 26/11'. I want my 133 minutes back, even if it means being stuck in traffic to watch another 133-minute film.