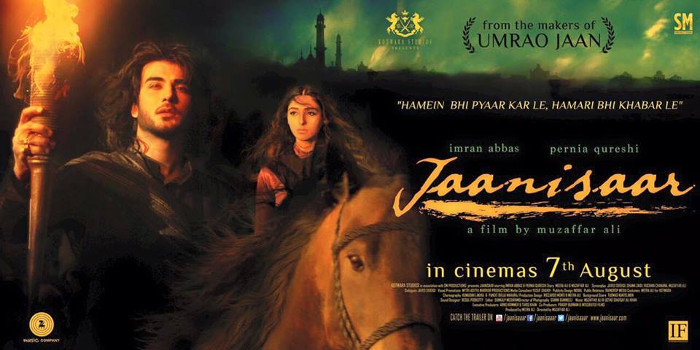 Synopsis
Jaanisaar is a period love story between a prince and a courtesan in British-occupied India
The film is poorly acted, slow, prose-heavy and tacky
The film by director Muzaffar Ali is self-indulgent in its crafting, and lacks coherent storytelling
Muzaffar Ali, the creator of the original Umrao Jaan 35 years ago, is definitely a man of the arts. There's a regal air about his name, an elegance that perhaps today's world doesn't quite deserve.
Unfortunately, we live in the fast, crude universe of 2015 - an era that makes it increasingly difficult to tolerate timelessness. It's even more difficult when the timelessness is so self-conscious, almost rebellious in order to embrace history again.
Jaanisaar, his new film about a love story between a courtesan (Qureshi as Noor) and a London-bred Indian Prince (Abbas as Ameer) against the backdrop of British rule in 1877, is so deliberately old-school that it'd seem dated even back in 1877.
It is so deliberately poetic and misty and whispery and ancient that if film school existed back in 1877, this would be India's first extended item song. Every frame aspires to be a portrait of such indulgences that Sanjay Leela Bhansali and Ashutosh Gowarikar seem like guerrilla filmmakers in comparison.
Slow, sleepy, and far too self-indulgent
First and foremost, this is a spectacularly boring film - the kind that revels in painfully long dissolves between two faces, reverb-heavy sher-shayaris and ghazals, chaste Urdu phrases, incomprehensible English accents, moonlit graveyards, moonlit balconies, moonlit moons, close-ups of leaves rustling, horses galloping and puddles bristling, frightfully long mehfil songs and tracking shots that move slower than facial muscles on the leads' faces.
These could be things of beauty, but perhaps not when the croma-lit background in a mansion window reflects a pristine landscape with the same animated doves flying to and fro. There's probably poetry in the wind.
A costume-drama full of caricatures and poor performances
Somewhere deep within the grace of this simmering world, a British commissioner named Cavendish is the Lagaan-thirsty villain and master - something our wooden-faced Prince wakes up to rather late in life.
In the end, he needs a woman to open his eyes to the world of atrocities and plundering - and I'm not even talking about their awkward lovemaking sequence. But every now and then, we are transported unceremoniously into the bedroom of the kinky English commissioner, who insists on going all Christian Grey on his mistress's Anastasia Steele.
There could be many interpretations to these absurd scenes - all of which depend on whether the woman was laughing or crying when he manhandles her. This is not quite clear, much like the relevance of this story in the larger picture of the freedom battle.
Other characters exist solely because the cinematographer wants to light his frames perfectly - like that of Dalip Tahil's effeminate King, a stuttering rival King, hefty-looking 'impoverished' farmers and a philosophical ex-Avadhi warrior (Ali himself).
When a young Noor is having his picture taken by the Queen, a puppy is seen behind them pulling on a cushion. Later, a Cheshire cat is seen posing nonchalantly behind Dalip Tahil's rehearsed strides. These animals are the only moments of truth and improvisation in a portrait full of museum figures.
Director Muzaffar Ali is listed as a fashion designer, poet, artist, music lover, social worker, actor and filmmaker. He brandishes all of these and none of these in his two-hour long epic of vacant passion.