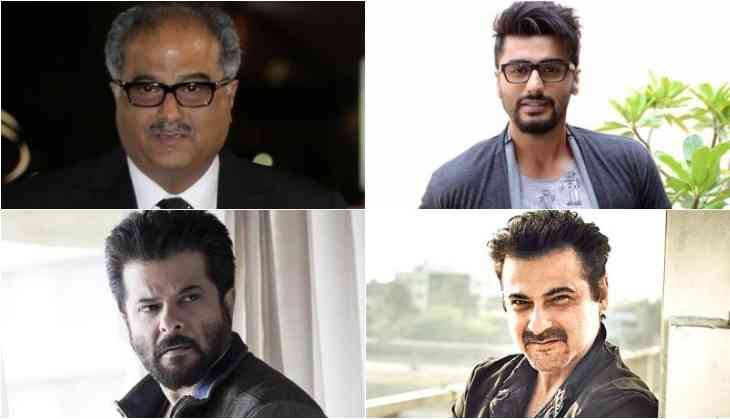 Is everything not good between Kapoor brothers Boney, Anil and Sanjay?
Recently the famous producer and legendary actress Sridevi's husband Boney Kapoor celebrated his birthday in Chennai (Sridevi's second hometown). It was a small birthday bash attended by only a few close members of Boney Kapoor like his two daughters Jhanvi, Khushi, wife Sridevi, and Shabana Azmi, Manish Malhotra, AR Rahman among others.
It was surely surprising and shocking when none of the brothers of Boney Kapoor, Anil Kapoor and Sanjay Kapoor and their family was seen in the birthday bash. Even Boney's children from his first marriage Arjun Kapoor and Anshula Kapoor were not seen in the party.
After this surprising birthday, Pinkvilla has quoted one close source to Boney Kapoor, "Boney's relations with both his brothers have been deteriorating. Ever since Boney's first wife Mona, who was loved by the entire Kapoor family, passed away, the strain in the relationship between Boney and his brothers has deepened. These days, Boney doesn't visit Anil or Sanjay and they don't visit him, even for family functions."
Also Read - Tiger Zinda Hai: OMG! This is what Censor board asks Ali Abbas Zafar to remove from Salman Khan's film
On the other hand, the silence fight between Arjun Kapoor and Boney Kapoor is open, the source has told, "As it is clear from Arjun and Anshula that they don't want to be a part of Boney Kapoor's second family."
Also Read - This film's failure shocked Aamir Khan and he couldn't sleep for 3 to 4 weeks
However, it was not shocking when Arjun and Anshula didn't attend the birthday bash, but it was surely shocking when Anil and Sanjay didn't attend that. Well, whatever is happening in the family that only the Kapoor family knows.