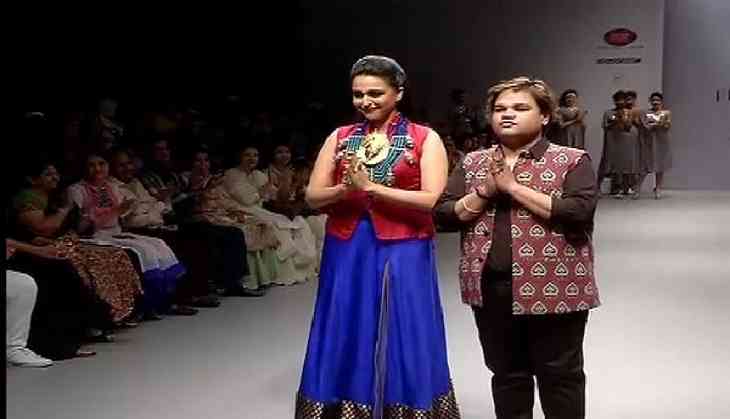 Swara Bhaskar, this Sunday, kept her inner-self out on the ramp, while walking for designer Akassh K Aggarwal's Subhashini Ornamentals.
The designer, through his collection 'Tribe Vibe Collectives,' bowed down to the ones who decide to live life on their terms, no matter how crazy or rebellious that be.
Reasoning as to why she decided to join hands with Akassh for the Indian Runway Week Spring/Summer 2017, Swara told ANI, "I was stunned to know a person, associated with the field of fashion, would actually take up a theme, which is openly political in such an open and fierce way, because there is always a tendency in us to be very moderate. I was stunned happily that Akassh had no such fear."
Speaking about his collection, the young designer said, "The show is about the changing phase of feminism in India. It's the time when we should stop talking about issues, instead start fighting for it."
Adding, "The show is about the kind of changes. New fierce girl like her (Swara Bhaskar), who is opinionated, has brain, thinkings, knows her choices and wants to come out and discuss the issues."
Continuing on the same, the 'Anarkali of Aarah' actress highlighted that most of the people, from the world of entertainment and fashion, like to cocoon themselves from the burning issues of the society.
"It's very easy for all of us in the glamour world, especially the people in fashion world, to consider it to be a cocoon that is insulated from the outside world. Akassh in that sense is very conflicting. And hence I agreed to do it."
The 'Tribe Vibe Collectives' is an inspiration from the world of bohemian self love, in a society that has seen women as the weaker and the second sex. Present at the event was 'Fashion' star Mugdha Godse.
When asked, does she always prefer wearing her feminism, Swara said, "You can never find fulfillment till you are not happy with who you are. It's a constantly changing world. Unless you are strong in your beliefs, you cannot be able to navigate the crazy world, where every six months a new iphone is launched."
On the work front, the actress will next be seen in Rhea Kapoor's chick flick 'Veere Di Wedding,' with Kareena Kapoor Khan and Sonam Kapoor, which according to her is going to break the myth, "feminism is boring."
-ANI