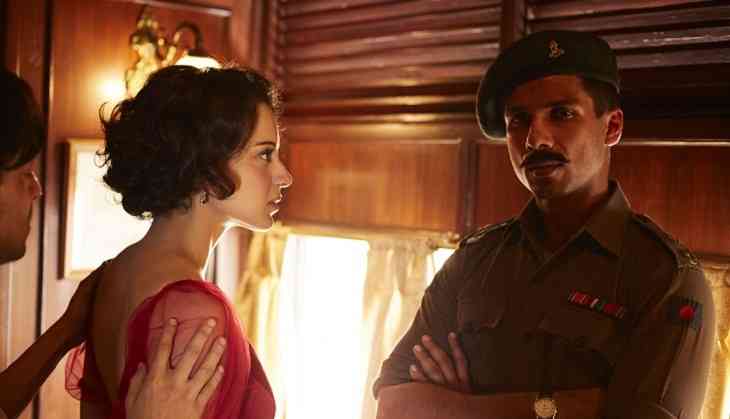 After essaying the character of a drug addict rock-star, Tommy Singh in Udta Punjab, Shahid Kapoor is gearing up for the release of Rangoon wherein he will be seen as an army officer, Nawab.
Ahead of film release, the actor in a conversation with us spoke about the reason to take up unconventional characters and how the definition of commercial cinema has completely changed in the past few years.
Kapoor is hopeful that like his previous two outings with Vishal Bhardwaj, even Rangoon will hit the bulls-eye and get a lot of critical acclaim.
Excerpts from the interview:
How was it teaming up with Vishal Bhardwaj for the third time after Kaminey and Haider?
Vishal Bhardwaj is the most relevant film maker I have worked with in my acting career. He has given me opportunities to showcase my acting talent in a way that probably even I didn't know. Working with him has always been special and everybody in this industry wants to work with him. So for me to be a part of his films again and again is indeed special. We have not got it wrong yet and I hope that we get it right this time as well. Rangoon is a different film for us and I think this will be a very different experience for the audiences as well. I believe even audiences want to watch good content these days and that is what I have been focusing on. I think this film can be watched by a wider section of audience in comparison to Haider and Udta Punjab because this isn't a dark film, rather it is dramatic.
Was it difficult to get into a character set against the backdrop of World War 2 era?
I agree that it is my first period film but the few films that I have done belong to a universe that has never existed for me. I had no access to world of Tommy Singh in Udta Punjab and same was the case with Haider. Rangoon as a character was far away from reality for me but I am playing an army officer, I am playing a man who fights to save his country and those things I have seen in the army officers around as that does not change with the change of era. Nawab is the most heroic character I have ever played. What he is ready to do for his duty is something larger than life. I am representing the men in uniform the way I have always wanted to.
Are we going to see you do films which are not commercial on the face of it and majorly dependant on content?
I feel a little liberated with the kind of choices I am making because I am not feeling the weight of too many thoughts. I am doing what instinctively I want to do. And of course I am very lucky that directors like Vishal Bhardwaj and Sanjay Leela Bhansali are coming to me with interesting characters. This is a great space to be in.
What is your reason to choose such films and be away from conventional Hindi films?
We are in a state of flux right now because the industry is going through a change. I strongly feel that there is a lot of change coming our way and what we think of it as commercial won't work anymore. I think content is king and it will drive the viewer into the theatre. Whoever offers the audiences a better experience, will always be the first choice. As an actor, it is our duty to offer something new and different which is in an unchartered territory. I don't think we are in a time when people will go to the theatre to watch a particular star flex his muscles. An actor will be a star when he makes the right choices.
Would we see you return to such a space again?
I would want to be a part of good film. The reason to do the film should meet your expectations. We look for answers in the future that lies in the past, but that's the safe route in this profession. We have to do something unconventional and try new things as that would help us find an identity.
What's your take on the Padmavati controversy?
We should wait to see the film.
How much do box office numbers matter to you?
It is very important for a film to be successful and I don't think anyone wants to be a part of an unsuccessful film. The only way you can term a film as successful is when it recovers its cost. So when you do a film, you must try and make sure that it makes money. Box Office numbers are very weird. There are people who do credible work and Box-Office numbers follow them and then there are people who have lot of Box Office number but two years down the line people forget them. Box Office numbers are very important but you should not run after it. You should run after wanting to be a part of a good movie.
By when will you finish shooting for Padmavati and what next after that?
I am done shooting for 25 days of Padmavati and we have a 200 day shooting schedule in place. Right now I am just focusing on finishing Padmavati. I have been offered a lot of scripts, but I am yet to sign.