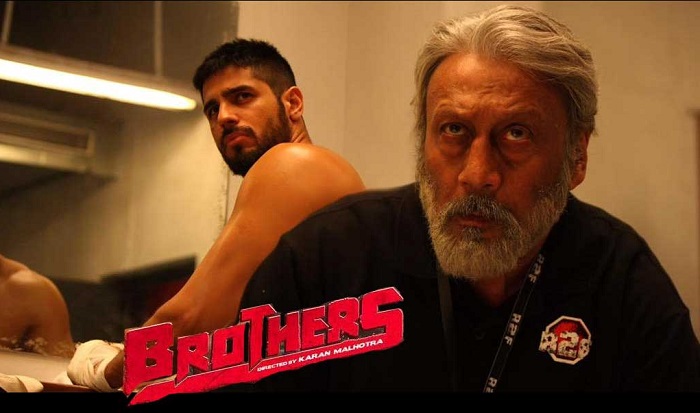 He plays the father of Akshay Kumar and Sidharth Malhotra in this week's Bollywood release, Brothers. And Jackie Shroff is thrilled by his role.
Excerpts from an interview.
Q. You've been in the industry for years. Which film of your own would you consider your favourite?
It has to be Falak . 'Machis hoti toh iss duniya ko aag laga deta' (If I had matches, I'd set the world on fire) - I remember Falak 's dialogue! Such dialogues were a rage at the time.
Salman Khan was trying to get into films during the making of Falak , so this film is a favourite of Salim Khan and Salman too. Salim saab would love to remake Falak . He always discusses Falak with me.
Q. How did you prepare for your role in Brothers ?
When you play father to Akshay and Sidharth, you have to look bigger. I had to put on weight. I had to look like a 65-year-old father. Never in my career have I been part of such an emotional film. Karan Malhotra got all the emotions from me. He is one of the finest directors we have right now. He made me choke with my emotions. After 30 years, someone made me cry.
Q. How have you seen social media evolving in the last few years?
In 1998, I had my own website, Jackieshroff.com. No one knew what the internet was at that time and I used to update it every day. I wrote about things close to my heart and even uploaded photographs.
Now it is very boring to be on social media because everyone is on it. Social media has now become fashion, whereas once I wrote on my site with passion. I like to speak from my heart and I don't think it is possible to do it on social networking websites. Things you say should never be planned.
Q. Why did you avoid watching Warriors , the film Brothers is based on?
I didn't want to repeat what has been done in the original. I just wanted to do what my director asked me to. I am a director's man, and I do what they ask me to.
Q. How does it feel when your own films are remade?
I love it. A remake can make the original better. I have done Devdas , and that was Saigal saab's classic. We did justice to the original film and I feel the guys remaking Hero and Ram Lakhan will do justice to the films and add their own flavour to them.
Q. Do you think the trend of bromance will be back with Brothers ?
I hope these two babies, Akshay and Sidharth do a lot more films together. They look very similar and the way they bonded on the sets of Brothers was just amazing. They merged and clashed. Looks-wise, they match, emotions-wise, they excel in their own way. I think these two guys will do a lot more films together. Sidharth had to train a lot to fight against Akshay, the martial arts expert. It takes a lot to fight against someone like Akshay Kumar. Full credit to Sidharth.