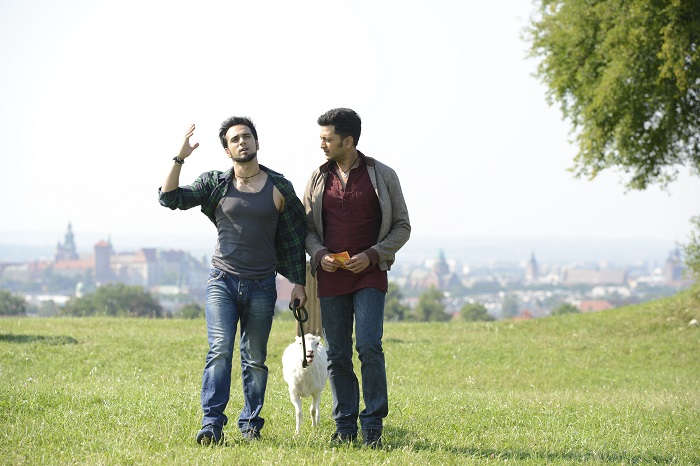 Film critic Karan Anshuman who ventures into direction with Pulkit Samrat, Riteish Deshmukh-starrer Bangistan had a chat with Catch. Anshuman talks about his film, the transition from being a critic to being a filmmaker, and more.
Excerpts from the interview
Q. After directing a film, has your vision to judge a film independently changed?
No, every time I watch a film, it is as a film aficionado and not as a filmmaker or critic and respond in the manner congruous to what the movie seeks to evoke. Like any other viewer, it is the feeling that you're left with at the end of the film even as the plot and details fade away that matters.
Q. You have been very particular while reviewing the films and comedies have always been under fire by you, so what made you choose Bangistan as your directorial debut?
A lot of the comedies that were "under fire" by me, as you put it, must've been uni-dimensional and only playing to the gallery or just plain unfunny. I've appreciated every film that has made an effort to go beyond being a straightforward slapstick and I've tried in Bangistan to make a film that's mostly comic but comes with layers and a strong message at the end of it.
Q. Jacqueline Fernandez has been missing from the promotional activities and much is not known about her character in the film. Could you throw some light on the same?
She's not really missing. She's busy shooting for her other film, but she's helping promote Bangistan on social media. She's doing a small but pivotal cameo as a pub owner with a worldview that begins the process of change in the characters of Riteish and Pulkit.
Q. What sort of films are you looking to direct in the future?
I would love to try all sorts of genres. And all sizes of films too. I have a number of ideas germinating, let's see which one sprouts first.
Q. How do you make a non-'Superstar' cinema work in the time of Eid, Diwali releases?
I think any content that is made with heart and wins over people's imaginations in the manner of their telling will work regardless of the timing of the release. A good film will always find its audience.
But besides that - look what's happening these days with Bahubali and Bajrangi Bhaijaan. We desperately need more theaters as global films are finding huge numbers now. The per capita number of screens in India is abysmal.
Q. What makes Pakistan ban a film like yours? Is it offensive in any way to our neighbours?
It is not offensive at all. If anything, it is pro every citizen of the world. They have banned it on the basis of the trailer. We are trying to get them to see the whole film. I'm certain they would be happy to release it then.
Q. What turns a film critic into a director?
I don't know. I was always a filmmaker first. What turned a filmmaker into a critic is a more relevant question for me. And my love for films, and to be able to communicate my thoughts and feelings about a movie into words is what made me take up the offer to be a critic for a mainstream newspaper.
Q. What is that single thing that you are trying to communicate through the film?
In this film I've tried to lampoon terrorism and in doing so, reduce their cause, their twisted ideologies, and regressive attitudes to dust.