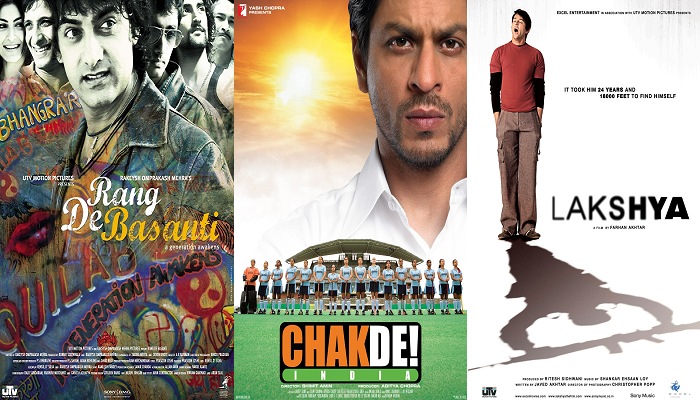 We worship cricketers and actors, but how often do we think about our real heroes: defence personnel, intelligence personnel and other security forces? How often, also, do we remember how much we love our country?
Not often enough, but every now and then, a movie comes along with dialogue that reminds us of what we really love, and makes us cry.
As we celebrate 69 years of Independence, relive these dialogues and be proud.
Akshay Kumar in Namastey London:
Mr PringIe, he'd Iike to teII you something about India. When we greet one another, we foId our hands in namastey because we beIieve that God resides in the heart of every human being. We come from a nation where we aIIow a Iady of CathoIic origin to step aside for a Sikh to be sworn in as Prime Minister to a MusIim President to govern a nation of over 80 percent Hindus. It may aIso interest you to know that many of the origins to your words come from Sanskrit. For exampIe, maatr becomes mother, bhratr becomes brother, giamiti becomes geometry, trikonniti becomes trigonometry. We have 5,600 newspapers, magazines in over 21 different languages with a combined readership of over 120 miIIion. We have reached the moon and back, but yet you people still feel that we've onIy reached as far as the Indian rope trick. We are the third largest pool in the word of doctors, engineers and scientists. Maybe your grandfather didn't teII you that. We have the third Iargest army in the worId. And even then, I foId my hands in humiIity before you because we don't believe we are above or beneath any individual. And namastey.
Hrithik Roshan in Lakshya:
Yeh Indian Army hai, hum dushmani mein bhi ek sharafat rakhte hai. (This is the Indian Army. We take pride in our friends and also our enemies.)
Suniel Shetty in Border:
Hum toh kisi doosre ki dharti par nazar bhi nahi dalte ... lekin itne nalayak bachche bhi nahi hai ... ki koi hamari dharti maa par nazar daale aur hum chup chap dekhte rahe. (We don't cast our eyes on someone else's land, but we are not so peaceful that we will sit quietly if someone eyes our own mother land.)
Akshay Kumar in Holiday:
Jab waha border pe log apni neend ki parwah na karte hue jagte hai, tab tumhe yaha seher main chain ki need aati hai. (You sleep peacefully because soldiers are awake at our borders to guard you.)
Aamir Khan in Rang De Basanti:
Mujhe hamesha lagta tha ki duniya mein do tarah ke insaan hote hai - ek jo chup chap maut ka daman tham lete hai aur doosre jo rote, chillate maut ki taraf badhte hai, aur phir main teesre kisam ke insaano se mila, woh jo shaan se marte hai. (I always felt that there are two kinds of people in the world - one kind dies peacefully and the other suffer while dying, then I met a third kind of person, one who dies with pride.)
Sunny Deol in Gaddar:
Agar tumhara Pakistan zindabaad hai, toh humara Hindustan bhi zindabaad tha, hai aur hamesha zindabad rahega. (If Pakistan was inevitable, India was always inevitable, India is inevitable and India will always be inevitable.)
Shah Rukh Khan in Chak De India:
Mujhe states ke naam na sunai dete hai na dikhai dete hai . sirf ek mulk ka naam sunai deta hai, INDIA. (States don't matter to me; I don't hear about them, I don't see them. I know only one homeland, and that is INDIA.)
Shah Rukh Khan in Swades:
Main nahin maanta ki hamara desh duniya ka sabse mahaan desh hai. Lekin yeh zaroor maanta hoon ki hummein kabiliyat hai, taakat hai iss desh ko mahaan banane ki. Hum aapas mein ladhte rehte hai, jab hamein ladna chahiye ashiksha ke khilaaf, badhti hui aabadi, bhrashtachaar ke khilaaf. (I don't think India is a great nation. But I do believe that we have the potential to be great. But instead of fighting against Illiteracy, population explosion and corruption, we keep fighting amongst ourselves.)
Shah Rukh Khan in Veer-Zaara:
Woh kehte hai yeh (Pakistan) tera (India) desh nahi, phir kyun mere desh jaisa lagta hai? Woh kehta hai main us jaisa nahi, phir kyun mujh jaisa woh lagta hai? (Why do I feel that this is my country where they say it isn't? Why do I feel the people here are same as me when they say I am not like them?)
Sunny Deol in Indian:
Chahe hum mein ek waqt ki roti na mile, badan pe kapde na ho, sarr pe chatt na ho, lekin jab desh ki aan ki baat aati hai tab hum jaan ki baazi laga dete hai. (Even if we don't get a meal, have no clothes, no roof over our heads. even so, we will lay down our lives for out country.)