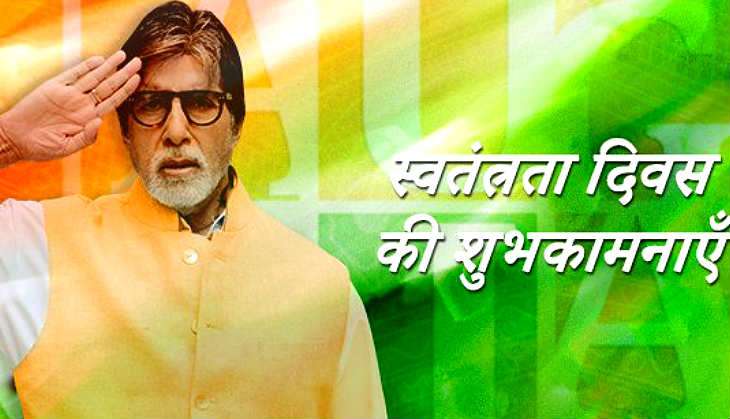 As India celebrates Independence Day on 15 August, Bollywood stars like Boman Irani, Amitabh Bachchan, Subhash Ghai, Prachi Desai, Shoojit Sircar speak about independence and the changes they want to see in India. Take a look:
Boman Irani (actor)
Everything comes at a price. Freedom came with the highest sacrifice and struggle. Enjoying that freedom should also come at a price. We aren't exempted because we were born in another era. So what is the 'price' to be paid? Not much really. Should be simple. Civility, for starters! Celebrate your freedom with the basics -- drive in your lane, don't litter your free roads, allow ambulances to pass freely, understand the simple concept of a queue. Yes civility! Let's get past this struggle and sacrifice. For the moment, that is all; not too much of a 'price' to pay!
My message to the youth: You don't have to be in the foreign service to be ambassador of India.
Amitabh Bachchan (actor)
I want India to be free of rape.
Rati Agnihotri (veteran actress)
To my mind, independence and freedom lies in allowing an individual to exercise his or her rights to do what they feel is progressive; not just follow a thought laid down by someone else. Education and an individual perspective are important.
I would like our children to balance a bit of their thoughts with a bit of our values. And I would like them to voice whatever they feel with harmony and peace. The world, by and large, has too many issues; and the only way to address the issues positively is in a united voice.
Subhash Ghai (director)
Independence means the ability to handle your azaadi with maturity and do your duty before asking for your rights from your country.
Aftab Shivdasani (actor)
Freedom and democracy for me is when people can live together in harmony regardless of what they believe and what faith they follow; it rests on the basis of respecting other opinions and lifestyles. Do not try and impose beliefs through force or power. It's a state of mind where the people have the genuine freedom to follow their hearts without fear.
The above is what I would want children to follow -- live and let live.
Prachi Desai (actress)
Freedom means a sense of responsibility accompanied by a sense of individuality. Each one of us needs to start taking responsibility for following the law to the T, our cleanliness, our safety.
We must all start being more in sync with the happenings in our country.
Dino Morea (actor)
Freedom and democracy to me means not having my rights and privileges taken away from me from the time I am born till I die. We were born free to roam, speak and do, and should be able to carry this out as long as it harms nobody.
I would like children to understand that Independence Day is a symbol of the freedom we were born with. Nobody should hold us back from these rights that were fought for once.
Jubin Nautiyal (singer)
Freedom is in the head. One has to be mentally free to grow as an individual. And we should be proud as Indians to be a part of a free society. People have given their lives for this freedom, for this growth. Independence Day is a day when the whole nation comes together and celebrates our rights.
Mishal Raheja (actor)
I want children to understand that human beings are equal everywhere. If you Google a picture of a prehistoric man or one from the stone age, you will see that everyone was the same. You cannot differentiate between Hindu, Muslim, Sikh and Christian.
Shoojit Sircar (director):
The women in all my films, whether it's Vicky Donor, Piku or Pink, have been progressive characters. So on this August 15 I wish that women are really liberated and free to do what they want to. They should not be held behind closed doors.
Jimmy Shergill (Actor)
When I was in school, 97 percent of students everywhere attempted to join the armed forces. I was sad because, I tried but I could not qualify. Today, wherever I go, everybody wants to either become a singer, actor. I wonder who is going to fight for the country after 10 years? If it was 97 percent then, now at least 30-40 percent should be enthusiastic about joining the forces. More students should come forward to join the air force as pilots or enrol in the army. I wish I could campaign for this. I have portrayed a lot of characters who are in the armed forces. I really want kids to start thinking about joining the forces after the 10th standard.
Abhay Deol (actor)
I don't think violence has ever solved anything. There's a tendency to violently protect your identity, beliefs, religion when you are offended and it's sad because you are just going to get more violence back. We can have more tolerance, and if you get offended by the word tolerance, then maybe we can be more compassionate. I am not one to scream about being nationalistic from the rooftops, I am very proud of my culture for sure -- I have travelled the world and we are some of the most hospitable people on this planet. But that doesn't mean that I have to shout about it.
Humanity is important. We are all human beings at the end of the day.
-- Sourced From Dinesh Raheja-Ami Sheth, Bollywood News Service