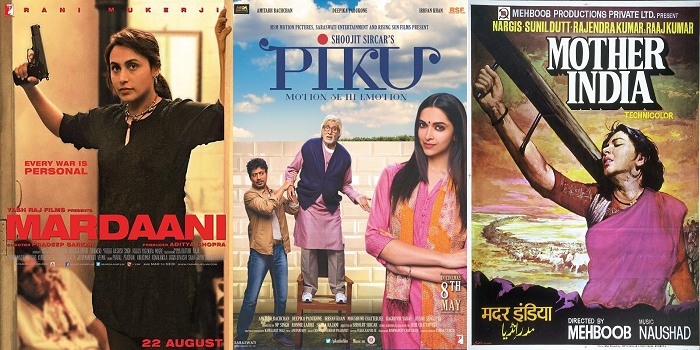 We live in a male dominated society, which naturally is reflected in Hindi films. Never do we categorise a film as 'male centric' but when a film revolves around a female protagonist, we call it 'female centric'.
It has been 69 years since independence, but women are still fighting for their freedom in our country.
The problem exists everywhere, even in the film industry. For example, there is a drastic difference in the pay scales of actors and actresses. While Akshay Kumar and Ajay Devgn charge Rs 25 crore per film, even well-established actresses like Deepika Padukone and Katrina Kaif do not get more than Rs 15 crore a film.
Things are improving over time though. Films with female protagonists have started being widely accepted. This is not a 'trend'. Female centric films have been released since the inception of the film industry. But they are getting their due recognition now.
Meet 5 female characters from Hindi films who define the word 'freedom'
Nargis in Mother India:
Set in the male-dominated era of the 1950s, Mother India 's Radha (Nargis) fights all odds to repay her loan, raise her children and rebuild her storm-destroyed village.
Seema Biswas in Bandit Queen:
The film, as well as Phoolan's character as played by Seema Biswas, operates at many level. It raises questions not only about an exploited gender group, but also about a marginalised social group - the Dalits and backward castes. The film deals with the unequal and exploitative social system which the female protagonist refuses to accept, initially protesting only feebly, and ultimately taking to the gun.
Rani Mukherji in Mardaani:
'Ha ha ha ha, tu maregi mujhko?' says Tahir Raj, and gets a heroic reply from Rani's character in the climax of the film: 'Tujh jaiso ke liye toh main akeli hi kaafi hu'. As a fearless cop in Mardaani, Rani Mukherji showed that a female protagonist can be as powerful as a male protagonist. People will whistle approvingly at heroic dialogues mouthed by a strong female protagonist if they're made with conviction, and Mardaani saw that happening.
Deepika Padukone in Piku:
The film had stalwarts like Amitabh Bachchan and Irrfan Khan, but it revolved around the life of modern, caring daughter Piku. In the film, Amitabh Bachchan said: 'I hated your mother because she decided to leave everything for me. Doesn't she have her own life?' Well. That's a lot of food for thought.
Neither Deepika Padukone nor Amitabh Bachchan considered sex a taboo in the film, thus making another strong statement.
Taapsee Pannu in Baby:
A smart, intelligent, brave and fearless officer. Despite a limited screen presence, Taapsee's character in Baby leaves an impact. Her character is not taken seriously by the male protagonist, Sushant Singh, until he experiences her brutal aggression.