Megastar Amitabh Bachchan doesn't deny the popularity of commercial cinema but says that even the so-called non-commercial films have a commercial aspect.
After Wazir, and a special appearance in Shoojit Sircar's Ki and Ka, Big B is now gearing up for the release of his upcoming film, Te3n, with Vidya Balan and Nawazuddin Siddiqui.
While promoting the film in Mumbai, he talked about Te3n and some more. Excerpts:
Your next film Te3n is a thriller. Do you think this genre has not got its due in India?
No, I think tastes will change. There were many lovely thrillers in the past with Dada Moni (Ashok Kumar), Sunil Dutt and Mehboob Khan ... and they were huge successes. Mahal was a hugely successful film. These films were made but sometimes people like to see escapist films.
Also read: TE3N vs Madaari: Irrfan Khan will not clash with Amitabh Bachchan - Nawazuddin Siddiqui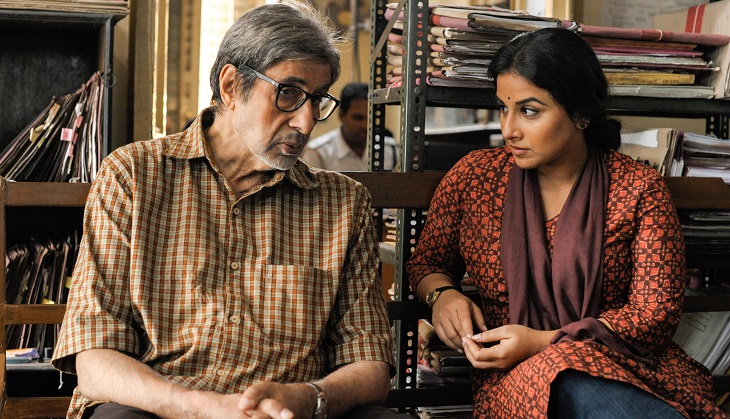 Amitabh Bachchan and Vidya Balan in a still from Te3n (A movie still)
In whodunits, the suspense is out soon because of the social media. Do you think this limits the audience?
No. In the case of romantic films, you know the guy will get the girl after fighting with the villain or the father and the family. When you watch a film where the leading man is going through a lot of problems, you are sure that at the end of three hours everything will be solved.
Your favourite thrillers?
I like Hitchcock's films.
Also read: Te3n trailer: Amitabh Bachchan, Vidya Balan, Nawazuddin Siddiqui in a thrilling whodunit
Of late, have you made a conscious decision to move away from commercial films?
Every film is made with a commercial angle. I am getting films as per my age like Piku and it did extremely well commercially. In every part of the world, there are some typical commercial films, and there is meaningful different cinema. Cinema is a medium where all kind of films are being made.
Does commercial success matter to you today?
When you make a film, a lot of money is invested so you wish at least the money is recovered. So commerce is important.
Also read: Begum Jaan: Vidya Balan's next after Te3n and Kahaani 2 to go on floors in June
Does box office success also have an impact on the acting offers that come your way?
We all are part of the combined effort; we cannot eliminate ourselves. We are actors and we also have to be concerned whether we are able to bring back the returns or not.
New wave cinema is working at the Box Office today. Would you agree that perceptions have changed?
I think the audience has acknowledged this cinema a lot. Methods of communication have changed -- there are many more facilities available now. Earlier, the only source of entertainment was movies and therefore, your choices were limited. Indian cinema had to offer something that catered to all. Today, there is TV, internet, and mobile phones. That is challenging for the Indian film industry. Audiences have become intelligent too; they will not go to see a film that is of inferior quality. I think if you make cinema just for the heck of it, it won't do well at the box office.
Creative people want their work to be recognised and want many to see their work and appreciate it.
Also read: TE3N trailer: What does this Amitabh Bachchan, Vidya Balan film have in common with Wazir?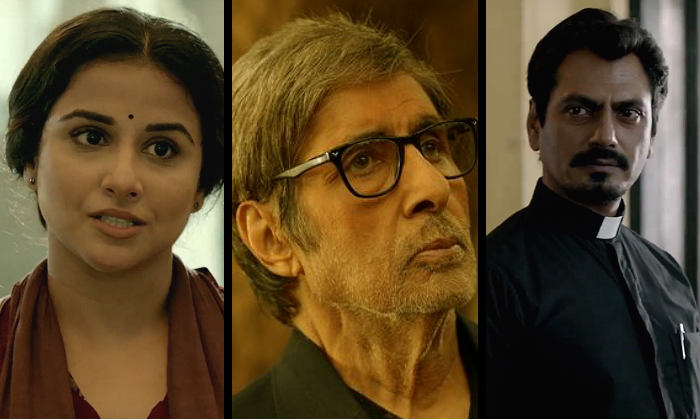 Vidya Balan, Amitabh Bachchan and Nawazuddin Siddiqui in a still from Te3n (A movie still)
What is the significance of the name Pink in your new film with Shoojit Sircar?
Pink, which is produced by Shoojit Sircar and directed by Tony Das Gupta, is about women empowerment. Pink is representative of the girl.
Buzz is that you have a film with Aditya Chopra and Dhoom 3 director Vijay Krishna Acharya in the pipeline.
I can't talk about it. Adi has not told me yet.
Also read: Amitabh Bachchan signs Hrithik Roshan-starrer Thug. Will Deepika Padukone come on board?
Which other films are there on the anvil?
Gaurang Doshi's Aankhen 2 -- I am taking forward the same role. Then there is a film with Ram Gopal Varma.
You have sung several songs in films. Do you sing to your grand daughter Aaradhya?
No, she sings to me. This generation is different they don't like this cuddling 'Arrey beta, how are you?' It's straight talk.
-- Sourced from Anita Britto, Bollywood News Service