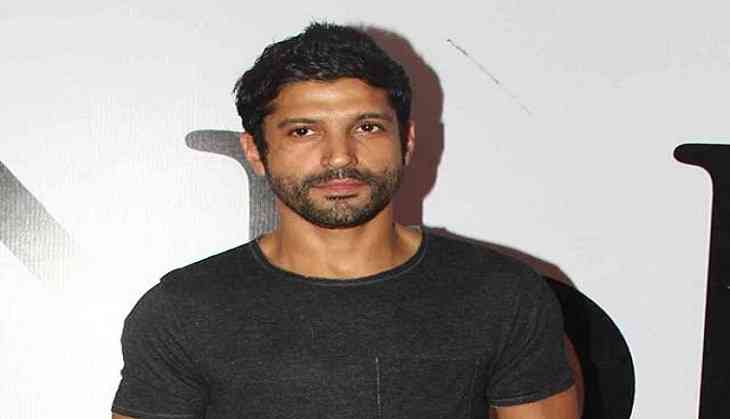 Farhan Akhtar will be seen playing a prisoner in Lucknow Central. The film stars Diana Penty, Deepak Dobriyal and others and it based on a real life story. Farhan talks about his film, box office figures and clashes and his upcoming film.
How did you come on board for this film?
I got a call from Nikhil Advani saying that there is a story written by Aseem Arora and it will be directed by someone who has closely worked with Nikhil, Ranjit Tiwari. He wanted me to hear it because he thought it was something I would love to hear and hopefully doing it. After he narrated it to me I felt it is a film one must say yes to because it is a very moving story. The film is not about band, though these people come together to form a band. It is about dreams of people.
Was it a moving experience to interact with prisoner?
What we normally think that people who are in jail are there because they deserve to be there and kept away from society. I got to know from police that lot of them are there for smaller crimes as the hardcore criminals are kept away. We met some thousands of people who are not criminal minded but have committed crime in fit of rage. So they were to repent and rehabilitate. So eventually they will be set free and inducted into society. Somewhere in their life they need to be given an opportunity. There are some of them who deserve our sympathy as they have served for what they have done.
Since you are the director, producer and actor, do you give suggestions during making of the film?
Film making is not a process where no one will talk to each other. It is important for people to communicate openly. That happens when I am acting or directing. I have directed some established and talented actors and they do have their point of views on their characters and I guess they should have it since they are playing those roles. On the screen they have to bring it alive. They ask questions all the time. Whether it is question about a scene or character it gives them clarity. It mostly happens during the reading sessions but suddenly you are on the sets and you have no idea how will it look like but your director has it. So sometimes you feel that I can do certain things differently. I don't find it as I am interfering it in someone else's work. I think I am trying my best to contribute in a creative way and it is a healthy thing.
Qaidi Band has similar premise as your film, do you think it will affect your film?
I have not seen the film. I do wish them all the best. I know there are many young actors in the film. I hope the film does well. Although on the face it looks similar that jail inmates are coming together to form a band, I am certain their stories and what they are trying to achieve is going to be different from our film. So it doesn't trouble me.
How important are box office numbers to you?
It has unfortunately become defining barometers of success. Of course it is important but it should not only be about that. There is a business side to it and it should be respected, when film does well everyone should celebrate that. But there should be creative celebration too, there are many films in the history of our lives that are not successful but we remember them fondly, they have inspired people in many different ways, other generations of filmmakers to do films. You cannot quantify that success. World can see the industry from outside however they want to see but we as a industry need to respect this art. We should not set it aside just because the film has not done well.
Does box office clash change equations in the industry?
Not really because there are only 52 weekends in a year and we make hundreds and hundreds of films. So there is a time when we have to release films around extended weekends. It is a good time to release a film and I cannot hold anything against anyone. I wish there should be some kind of initiative taken by I & B ministry to encourage more theatre building; we are awfully short of screens even though we are largest film producing countries in the world. We have least number of theatres. So if we have large number of screens then there would not be any discussion on why two films are coming on same day. Moreover there are some periods when we cannot release our films shradh, ramdan no one wants to release their films. So some of the weekends are gone because no one is going to watch the film, you hardly have any choice. We cannot wait endlessly when no film is releasing. I do really wish we can up number of theatres. Earlier for multiplexes there were tax concessions given to them and we saw big boom audience. So if that would have not happened we would have never seen Rs. 100 crore and 200 crore.Biggest hit film in India has done Rs. 300 crore and that same film in China has done Rs. 1000 crore ,the only reason it did well there because they have many screens. Our films are doing worst here than what they are doing abroad.
Do you feel web is a better option these days to tell stories?
When you go to a theatre you get community viewing experience and sense that is important. You can sit in your room and listen to music and there is a difference when you go out and listen to it with thousands of people. So similarly when you are sitting in a theatre with strangers you are sharing a common expression and it is important for community building. That will always remain. Digital offers you a space where you can tell different kind of stories may be you that there are no audience for it to go to theatre and watch, you can also tell longer format stories. Currently there is lot more freedom in terms of content and language possible to use, sexuality possible to show opposes to films. Hopefully it will change film can mature and catches up to that level or maybe we can do that in our films. I feel there should sincere and honest rating system for films.
When can we see you directing a film?
Right now my focus is on this film. Lot of people are asking me about Don 3 but it still has some time.
What are your other projects?
There are two directors with whom I am going to be working with soon, one is Nishikant Kamath, and it is being produced by Ajay Devgn. It is with Sanju (Sanjay Dutt) and me and I am really looking forward for that. There is another film which I am doing with Mohit Suri.