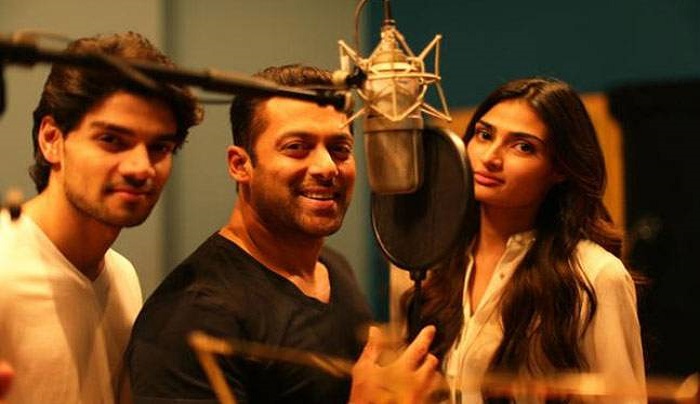 Stars: Sooraj Pancholi, Athiya Shetty, Tigmanshu Dhulia, Aaditya Pancholi, Sharad Kelkar, Vivan Bhatena

Director: Nikhil Advani

Producer: Salman Khan

Rating: 2 stars
So what we have here is a hero who desperately tries to prove that he, indeed, is the hero of the film. A heroine, who doesn't have the quintessential Hindi film leading lady looks, but manages to somewhat impress. And a story that teaches us three lessons
How a couple should celebrate Valentines' Day
How you can make your father like someone you love
How you should just never ever throw away that tiny piece of art you made when you were probably 4 or 5
If you still want to know more about the film, you've got guts. So here it goes. Nikhil Advani's Hero starts with a heroic or rather tatto-ic entry of Sooraj Pancholi, who has some pointless tattoos all over his perfectly cut frame, and the heart of Robin Hood.
Yes, since he's a hero, how can you expect him to not fight for the needy, not distribute his money to the poor and not impress a girl by being a baddy and confessing that to her? Mind you, what makes him a hero is the fact that the earth starts shaking (read literally) when he makes an entry. Fabulous in the action sequences, it's the romantic ones that Sooraj seems to need some help with. Unless it was a case of poor characterisation, which, considering the rest of the film, seems entirely possible.
Hero Trailer:
Really makers, this guy is oozing potential, but you could only see another Salman Khan in him.
Anyway, the film moves on and our girl makes an entry too-elite-to-beat Alia Bhatt's Shanaya's entry in her debut Student Of The Year. As she is the daughter of the Mumbai Police IG, she has to wear skimpy clothes and party relentlessly in a club, only to reveal that she is done with her boyfriend and they are breaking up.
Meanwhile, a fling with an oh-so-hot Sooraj Pancholi won't hurt. Dance, flirt, fight and cut to how protective an IG father happens to be. Which really is rather pointless as she will anyway fall for the bad boy later and then fight the rest of the world for him.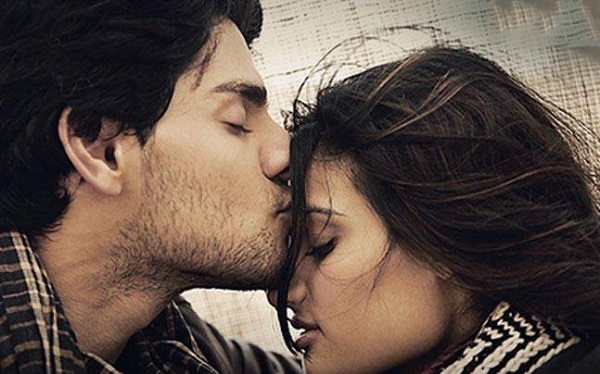 However, full marks to Athiya Shetty for not making a badly written character look like a lethargic fragment of someone's imagination. I like how she neither tries to look uber glamorous nor tries to force I-am-the-heroine-of-this-film attitude on the viewers. If only she had more dialogues...
Sooraj Pancholi and Athiya Shetty look good together. Even though it is amidst the usual snow-capped backdrop, a cottage, random outing-turned-adventure, songs and what have you.
The music is the saving grace of the film. The music composers -- Amaal Mallik, Meet Bros, Anjjan and Sachin-Jigar have offered some good ditties which go a long way in complementing the lead pair's chemistry.
Also read: Salman Khan stood like a rock by me, says Sooraj Pancholi on Jiah Khan's suicide
Hero title song:
However, without overdoing it, Athiya wins this battle for me. Sooraj just needs to understand that you don't become macho with just bulging biceps. And seriously, junior Pancholi, try to develop some expressions, specially when you are romancing a girl. And they honestly cannot be 'girly' ones... Remember you are a hero? And that too in a Bollywood film!
Therefore here it goes -- Daddy Shetty - 01, Daddy Pancholi - 0.
The scene by scene revelation in Hero makes you forget Abbas Mustan's shocking screenplay. So one just keeps wondering about the real villain in the film. And in case you think it is Aditya Pancholi, playing a corrupt minister, stop thinking. Which anyway you should while watching this film!
Also read: Salman Khan finally breaks his silence on not doing 'kissing scenes' in films
The real villain is Vivan Bhatena, who waltzes in from nowhere in a rather heroic entry. Of course he tries to prove that he can't be ignored, despite the presence of Sooraj's tattoos and waxed torso. So Vivan aims to impress with a rusty unshaven look, a chiselled body (of course!) and those dimples that took almost eight years to emerge. Yes, Chak De! India was released in 2007 and the man played the cricketer boyfriend of Preeti Sabharwal.
Khoya Khoya song from Hero:
Just to make you feel good, you also get to visit Paris in the film. And see the Eiffel Tower. I spotted it and still remember. One of the things I do.
Final words: If Hero had Salman Khan, it wouldn't have been so bad. Because he knows how to totally own the screen, even when everything - from the screenplay to the direction - is missing. And no, not everyone can do it. I do feel bad for the two star kids, who were evidently trying to give their best but in vain.
Just Alt+Ctrl+Delete everything you see before Salman Khan comes and sings Main Hoon Hero Tera.