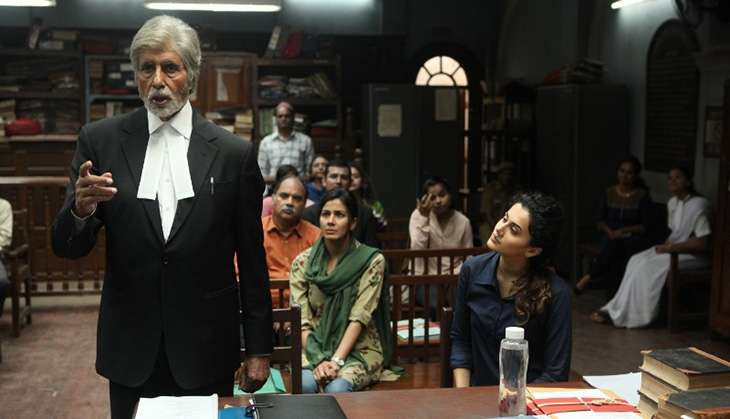 Shoojit Sircar's Pink, starring Amitabh Bachchan, Tapsee Pannu, Andrea Tariang and Kirti Kulhari, has been winning acclaim for its hard-hitting content.
The Pink is an attempt at shining the light on the way women are perceived in India and is a closer look at the sexism that women in India face on a daily basis.
The film seems to have resonated with a number of young women in the country. According to a recent report, a growing number of women are lining up to ink themselves with Tapsee Pannu's tattoo in the film - that of a flock of birds in mid-flight.
The craze behind the tattoo, which symbolises freedom, is only one aspect of the discussion that Pink has managed to spark.
A growing number of women on social media have been tweeting in favour of the 'The Rule Book of the Girls' Safety Manual' - a part of Amitabh Bachchan's speech in the courtoom scenes.
The rules managed to resonate with a number of women. Take a look:
1) Don't stay out late
"Hamare Yahan Ghadi ki sui character decide karti hai."
PINK wil mk society go red wid shame
Ghadi ki sui ko ladki ka character decide mat krne do. thanks4makin d film@ShoojitSircar @SrBachchan

— Pooja Sachdeva (@PoojaSachdeva15) September 21, 2016
Women who come home late at night are often misconceived as having loose morals. What's more, women are often told that if they stay out so late, they are "bound to face harassment."
2) Don't drink with boys
"Kisi bhi ladki ko ladke ke saath baith kar sharaab nahi peeni chahiye. Kyuki agar who aisa karti hai toh ladke ko yeh indicate hota ki agar ladki mere saath sharaab pee sakti toh who mere saath sone ke liye bhi katrayegi nahi."
#Pink ..in true sense told the story about women&yes "no means no"if i m independent drinking or wearing shrt dresses ..i.m.not available

— Tinakapoor (@teena8128) September 21, 2016
No one bats an eyelid at inebriated men in India. When a woman drinks, however, she simply invites trouble because she is branded as being 'available', or so we are told to believe.
This social activity comes with health warnings for men and a lesson in morality for women. Pink poked fun at this mentality, but for the large majority, it appears to be an incomprehensible question.
3) Don't spend time with boys
"Kisi bhi ladki ko kisi bhi ladke ke saath kahin bhi akele jana nahi chahiye. Kyuki aisa karne se log assume kar lete hain ki wo apni willingly waha par aayi hai aur unhe use touch karne ya use choone ka license issue kar diya hai."
#Pink a must watch..this movie is so fucking true...if u hang around wid multiple guys that doesn't mean u r a... https://t.co/lUGlcxzQun

— moumita (rebellious) (@HalderMoumita1) September 23, 2016
How often have you been told not to go out with boys?
A woman travelling alone raises eyebrows and is quickly followed by remarks ranging from safety warnings to the 'what-will-people-say' remarks.
If you choose to visit a religious spot with a boy, it is fine, but going to a club will make you the subject of condemnation.
Society is quick to judge on the basis of the people you hang out with. Whether they really know anything about you or not doesn't really matter to them.
That Girl's Safety Manual, really struck me to the deepest chord. That's what happened to us, girls, everyday. Thank u @ShoojitSircar #Pink

— erLIKA (@Erlika) September 23, 2016
4) Don't be independent
"Shehar mein ladkiyon ko alag nahin rehna chahiye, akele nahin rehna chahiye. Ladke reh sakte hai par ladkiyaan nahi. Independent ladkiyan ladkon ko confuse kar deti hai"
Finally saw #Pink @SrBachchan n wanna Thank You for "Women Safety Manual Rules" as dey were needed desperatly in this hypocratic society!!

— Mansi (@mansishah1611) September 20, 2016
Independent women who live alone must have a loose character. Women only move out of their houses to get married. Any diversion from this is proof that she has ulterior motives. Or so society believes. The same society that makes fun of men for living with their parents.
5) Don't smile when you talk to boys
"Kisi bhi ladki ko ladki ko kisi bhi ladke se hans-hans ke baat nahi karni chahiye, kyunki wo usse hint samjh lega."
@SrBachchan loved every single dialogue. From "no means no even by a sex worker" to the "girls safety manual" Thank you sir :) #pink

— Shubhangi (@Shubhangi1810) September 19, 2016
An open letter from a woman who is fed up
Dear people who are quick to assume,

Our clothes and our lifestyle choices are none of your concern. Our choice to be sexually active is none of your concern.

If we want to have a physical relationship with you, we will ask for it. Our smile can mean we are having a good time. It could also just mean that we're being polite. It is not a hint. Our other actions are not hints either.

Whether it is a single woman, a spouse, or a sex worker, when a woman "NO", you stop.

Yours Sincerely,

Women who desperately want you to understand consent

--Edited by Blassy Boben