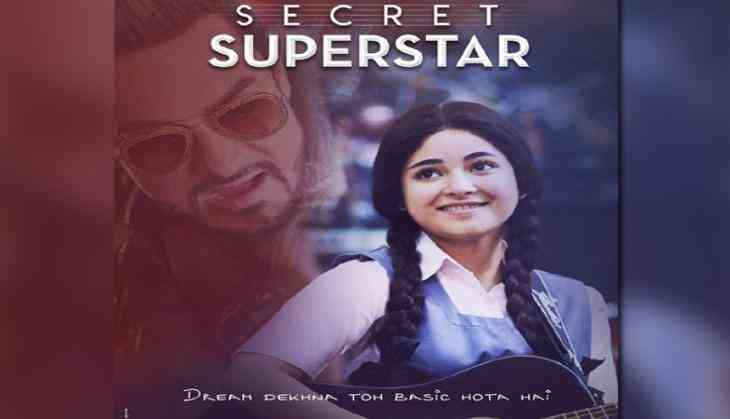 The recently released trailer of 'Secret Superstar' has been garnering overwhelming responses.
Directed by Advait Chauhan, 'Secret Superstar' is the story of a young girl, played by Zaira Wasim, who dreams of becoming a famous singer against her father's will.
And how this girl achieves stardom without openly defying her father forms the crux of the story.
Aamir, who has worked with Zaira in 'Dangal,' shares how she was finalised for Advait Chandan's directorial debut.
He shared, "Zaira entered the film very differently. Because when we were conducting the screen test, we got Zaira for Dangal, and because I saw her work and liked it, I told Advait that we have got a good girl for Dangal. Even your script requires a 14-15 year old, try testing her. She can do both Dangal and then secret superstar. Advait saw her and loved her. He said we'll cast her for Secret Superstar, don't cast her in Dangal."
Advait shared, "I tried a lot. He didn't agree but I fought for her. I kept trying, Sir don't take her, why are you giving her the role, I'm giving a bigger role."
Replying to Advait, Aamir said, "You have a Dangal with Nitish ji, if you win against him we'll agree with you. But of course Zaira was there in Dangal and she's done a wonderful job in Dangal. And we're very happy that she's also a part of Secret Superstar. All these caused the delay in the film. Because he had to wait for her for almost 8-9 months."
'Secret Superstar' is Aamir Khan Production's eighth film, after delivering blockbuster films like ' Lagaan', ' Taare Zameen Par' and Dangal to name a few. The movie also sees him in an extended cameo.
Produced by Aamir Khan, Kiran Rao, Zee Studios and Akash Chawla, Secret Superstar is written and directed by Advait Chandan. The film is slated to release this Diwali.
-ANI