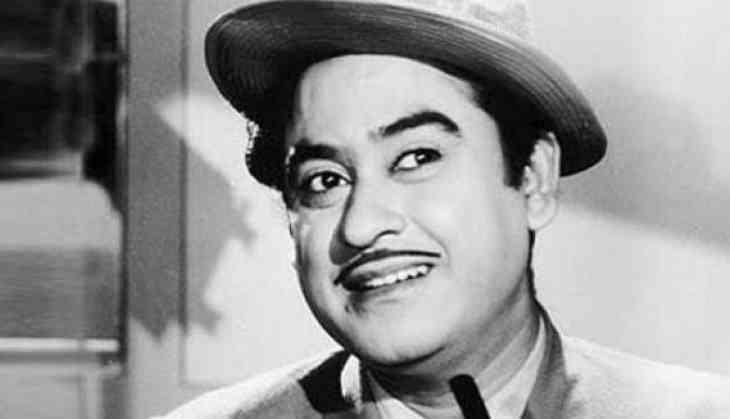 On 4th August, multi-talented artiste extraordinaire Kishore Kumar was born in Bengali family in Khandwa district.
Kishore and his brother Anoop Kumar lived in one of the 60 rooms of the hostel, which was abandoned two decades ago.
At 18, Kishore set off for Mumbai from his native Khandwa with a bag of clothes, an untrained voice and a passion for singing. His brother Ashok Kumar -- older by 18 years -- was the reigning star of the day and a big-shot at Bombay Talkies. Ashok Kumar launched Kishore with a Khemchand Prakash-composed song for Ziddi (1948).
Interestingly, the important events, decisions taken and the incidents which happened in this popular singer's life are connected to number 4.
Role of number 4 in his life:-
1. Kishore Kumar was born on 4th August, 1929, under the period of No 1, Sun (Leo Ruler).
2. The name KISHORE KUMAR produces 40 (4 + 0) = 4, again 4.
3. The time of his birth was 4 o'clock, again 4.
4. In Kishore Kumar's family they were all 4 children, three brothers and one sister; Kishore is the youngest and the 4th child.
5. Sathi Devi, his eldest sister got married when Kishore was 4 years old.
6. Kishore Kumar had 4 wives: (a) Ruma Devi, (b) Madhubala, (c) Yogita Bali and (d) Leena Chandawaker.
7. He was blessed with his first son Amit Kumar at the age of 22 (2+2)=4.
8. No 4 played a major role in Kishore Kumar's life as his 4th marriage with Leena Chandavaker proved to be the most successful. She was with him until his death and even now attends all the Kishore Kumar related programmes.
9. He married his second wife Madhubala at the age of 31 (3 + 1) = 4 and she died when he was 40.
10. The number of Bangla films in which he acted is only 4.
11. He sang 4 songs in his Bangla film "LOOKO CHORI". These 4 songs made the film a super hit.
12. In the film "JUMROO", there were total 13 songs, (1 + 3) = 4. This film became a super hit.
13. Kishore was a fan of the foreign singer Topole. He went to attend Topole's Show and attended 4 continuous shows of Topole.
14. The age of 40 brought Kishore's transformation as a super hit singer. The Filmfare Award for his songs in ARADHANA came at this age. His songs in "Aradhana" made the film a super hit and the main leading man Rajesh Khanna a super star. Rest is history. In film industry, all the superstars have their super hit songs sung for them by Kishore.
15. At the age of 49 (4) his friendship with Leena Chandawaker began and it blossomed into marriage.
All 'years' of importance in Kishore Kumar's life bore no. 4-
1. 1948 - First duet song with Lata Mangeshkar ( 1 + 9 + 4 + 8 ) = 22, ( 2 + 2) = 4 was sung in film "Jiddi".
2. 1957 - Film "Asha" was released. The song "Eeena, Meena, Tika" in it by Kishore Kumar became an evergreen super hit.
3. 1957 - In "Bandi" all the three brothers Ashok, Anoop and Kishore acted together.
4. 1957 - Kishore Kumar moved to his newly bought 'Juhu' house with his first wife Ruma.
5. 1966 - Film "Akalmand" was made. In this Asha sang a song on Kishore Kumar. This was the rare song sung on a male singer by a female singer.
6. 1975 - Emergency was declared. Kishore Kumar was the only singer whose songs were banned during emergency.
7. 1984 - When an unfortunate stampede happened in a state programme, 4 from Kishore Kumar's family were present there.
Related umber 1 and 6 played roles in Kishore Kumar's life:
• People born under this period of the Sun are dominant, stubborn, creative, individualistic, definite in views and ambitious. Such persons will always rise in their respective professions. This Numerological observations proved to be true in Kishore's characteristics in his life and profession.
2. Number 6: The total of Kishore Kumar's date of birth (13-8-1929) =15, (1+5) =6. Number 6 represents Venus. People who are governed by Venus love beautiful things. If rich, they are more generous to art and artists. They love to entertain their friends and try to make everyone around them happy. No 6 helped influenced K K become a performing artist, a famous singer, attained a celebrity status.
• The influence of number 6 on Kishore Kumar can be proved by the fact that all his four wives resided in BANDRA and the total of BANDRA comes to 6.
• KHANDWA, near Indore in M.P, the birth place of Kishore Kumar bears the total number of 6 (24)
Bearing number 6, it attracted him again and again like a magnet. Leaving Bombay, he repeatedly went to Khandva and longed to stay there.
To Sum Up
• 04th August, the birth date of Kishore Kumar produces number 4.
• The number of brothers and sister in his family was 4.
• Kishore Kumar's wives were 4.
• 22nd, Kishore Kumar's age when his first son was born produces 4.
• 13th, the highest number of songs in his 'JUMROO' produces 4.
• Rs. 4000/-, the amount paid as advance for his first car produces number 4.
• 40, the age of his transformation as a super hit singer by his playback singing in "Aradhana" produces 4.
• 49, the age of his fourth marriage with fourth wife Leena produces 4.
• 1948, the year of first duet with Lata Mangeshkar produces 4.
• 1975, the year of emergency when Kishore's song were banned produces 4.
• 13th Oct, the birth date of his most supportive brother Ashok Kumar produces 4.
• 13th Oct, the date of his death produces 4.
• 4:36 pm, the time of his death produces 4.
• 49, the pin code of the place in Bombay where he died also produces 4.
(The above study of number is examined by Gautham Azad, An Engineer by Qualification and a Numerologist by Passion. He had the fascination for Numbers since early of 20s)