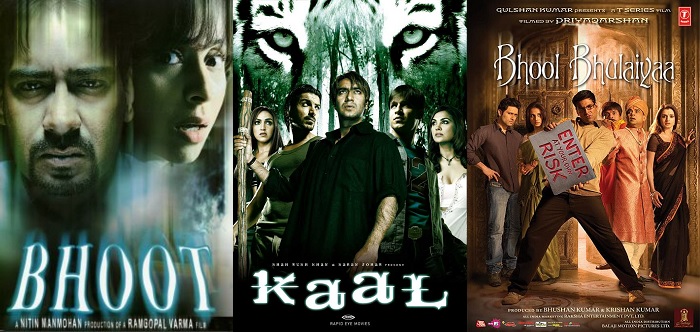 Bollywood does not seem to have taken to Halloween much. In fact, one of the only Halloween celebrations we can recall in a Bollywood film is the scene in Koi Mil Gaya right before the character of Jadoo is introduced to the audience. However, the industry has a number of horror films to boast of that you can rewatch to mark this spooky festival. With Halloween right around the corner, let's take a look at some of the spookiest characters that Bollywood has given us.
Vidya Balan in Bhool Bhulaiyaa
What will you do if your wife is possessed? In this remake of the classic Malayalam film Manichitrtazhu, Vidya Balan plays Manjulika, who is by far one of the scariest characters that Bollywood has to offer. Balan essays the role of a woman who is battling schizophrenia. Her intense portrayal of the gradual unraveling of her mind will keep you hooked to the screen. The film has been remade into a number of Indian languages. Vidya Balan won a number of awards for her performance. Shobana, who essayed the role in the original Malayalam film, was awarded the national award for her performance.
Urmila Matondkar in Bhoot
Critics praised Urmila Matondkar for her performance of a possessed young woman in Ram Gopal Verma's Bhoot. The film won awards for its spooky tale, while Urmila scooped up a number of best actress awards at various ceremonies that year. Her characterisation of a possessed woman, and her depiction of her slow descent into madness, is both terrifying and awe-inspiring.
Huma Qureshi in Ek Thi Dayaan
Bollywood thrillers follow a certain pattern of story-telling. If the countless thrillers have taught us anything, it is that the least suspected person is often responsible for the crime. Despite being a horror film, Ek Thi Dayaan was more of a thriller about unlocking the mystery as to who the real Dayaan is. The characterisation of Huma Qureshi in the film, especially in the last 20 minutes, will blow your mind. Her transformation and her acting prowess will keep you thinking about the film long after you've seen it.
Ajay Devgn in Kaal
Imagine you are lost in a jungle and a man who calls himself the King of the Jungle comes to your rescue. In Kaal, Devgn plays the menacing villian who kills off a group of youngsters one by one. While the film failed to make a mark owing to its weak direction and screenplay, Devgn gave us a scary Bollywood character to remember.