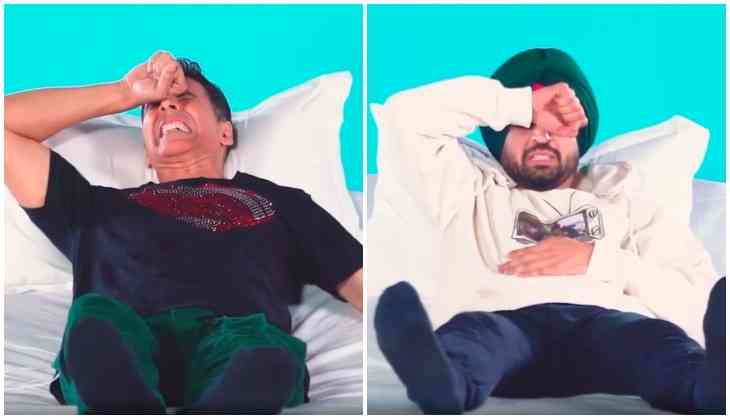 Good Newwz starring Akshay Kumar, Kareena Kapoor, Kiara Advani and Diljit Dosanjh is around the corner to hit the theatres. The actors and the makers are leaving no stone unturned to promote their film based on pregnancy and childbirth. Apart from going to the reality-based shows Akshay and Diljit have found a new technique to promote their film, they chose to experience labour pain and all thanks to the advanced technology.
Akshay took to his Instagram handle to post the video where they can be seen going through labour pain under the guidance of a doctor. He captioned the video as, "Diljit Dosanjh and me experience labour pain : Good Newwz A small step to understand what mothers go through by @diljitdosanjh & me. Dil se - RESPECT to all the mummies out there, delivering #GoodNewwz is harder than anyone can imagine!♥️ @dharmamovies"
In the video, we can see both the actors screaming and jumping on their bed in pain and are also not able to bear it. Let us tell you that the pain they are going through is much lesser than the actual pain women suffers when in labour. This is a good way to show respect to all the mommies out there.
Watch the video:
The film will hit the theatre on 27th December 2019 helmed by Raj Mehta. The film will revolve around two families who opt for IVF treatment and during the treatment the sperm gets exchanged. So from here, the story will take a turn filled with confusion and laughter for both the couples.
Also Read: Raj Kapoor Birthday: When actor burnt himself with cigarette butts for Nargis; 5 lesser-known facts of