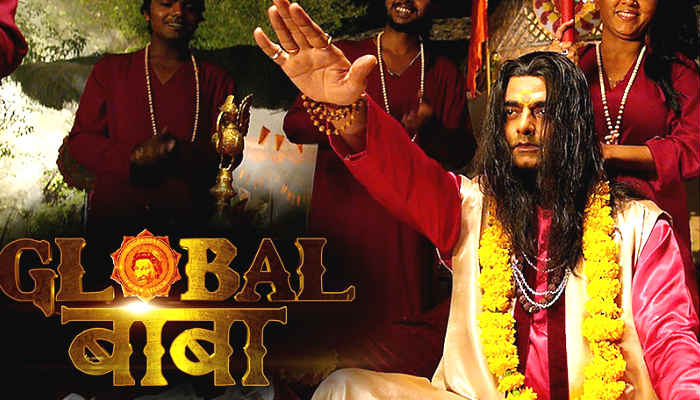 Rating: 2 stars (out of 5)
* A sociopolitical satirical drama based on a fictitious baba in UP* Directed by Manoj Tiwari, and stars Abhimanyu Singh (Gulaal)* Decent ideas undone by rushed, greedy storytelling
Once I was able to process the title 'Global Baba' without mentally post-fixing it with "ki booty", I began to appreciate a few things. Firstly, the release couldn't be timelier. With the latest Sri Sri 'Cultural Olympics' Yamuna controversy, the focus has once again been directed to the business of religion. As one of the key characters note early on, their "line" simply caters to the demand for hope.
This is also the answer to a disillusioned question posed by a young reporter (Sandeepa Dhar) after she uncovers the racket: People know that most Babas are frauds and sex fiends, so why do they still have followers? "Now that's a good story," notes her male colleague, before scooting off to interview one.
Bollywood meets Baba-hood
Secondly, the film resists the temptation of spiraling into an all-out parody. Unlike Naseeruddin Shah's subversive Neel Anand Baba in Dharam Sankat Mein and Saurabh Shukla's exceedingly deliberate Tapasvi Maharaj in PK, Abhimanyu Singh's Global Baba feels a bit more familiar. He looks questionable enough for you to judge on a television set, but authoritative enough to engage in person. Perhaps because there's more to him than robes and a Taher-Shah-meets-Sukhbir getup. His motivation lies in a comforting Bollywood trope: This is his second coming after barely escaping the clutches of top cop Jacob (Ravi Kishen).
Also read: Teraa Surroor movie review: Another music album parading as mainstream cinema
Think Oswald Cobblepot rescued by penguins, and hence becoming 'The Penguin'. The film begins with their unassuming conversation at a roadside dhaba. Only later do you see how much Jacob's 'gyaan' seems to have shaped the birth of Baba. You'd think an ex-criminal looking for a new identity would know better than to choose the path of fame and public adulation.
But his old pal, a fake Damru Baba (Pankaj Tripathi, putting on his best 'totla' act), convinces him to rake it in.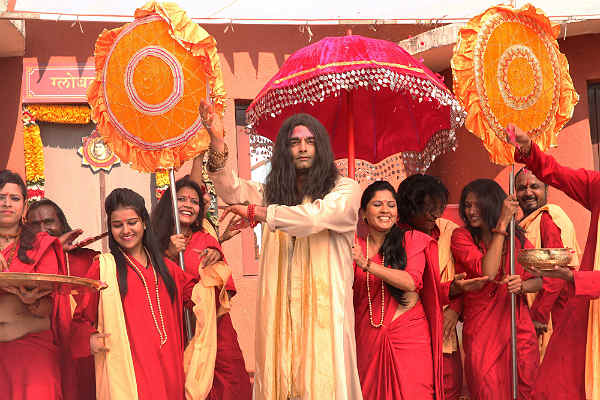 Unlikely transformation
His orchestrated rise from a newcomer in Kabirganj to the all-healing Global Baba is too simplistic - almost like the writer wanted to get a move-on into the more serious parts. Thus begins the legacy of 'Global- Godfather-aay-namaha': young lady devotees, spiritually curious foreigners, drugs, cops, land grabbing, journalists, rival politicians (Akhilendra Mishra), rival God-men (Sanjay Mishra), elections, the jingbang. Not to mention the rather catchy slogan, 'Bhakti Mein Hai Dum, Global Godfather Ki Kasam.'
Also read: Before Deepika Padukone, foreign media made a boo-boo with Priyanka Chopra, 4 others
Brave writing, weak craft
The filmmakers attempt to tread a blurry line between absurd satire and political realism. The line is admittedly thin; what may seem funny is also disturbingly true. Those snaking lines, obscenely designed mansions, merchandise, sleazy sidekicks, deluded followers, the cult mentality- they all exist, and perhaps even in more sinister universe. As a result, the treatment comes across as more of an afterthought to navigate through a vast plot.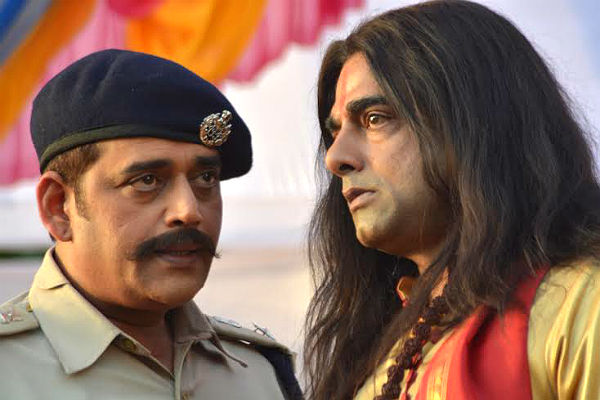 No payoffs
No scene ever really reaches its entirety - like a batsman playing good shots, but not bothering to enjoy them or hold his stance. At one point, a crucial character dies. Instead of examining its immediate effect on others, it's back to Baba and his evilness. It's almost as if nothing ever happened, and this was simply the means to an end. Furthermore, most of the stock footage and master shots don't look treated at all, in stark contrast to the close-ups.
There's also the issue of Abhimanyu Singh gradually easing into his role. His diction initially seems as if the director has told him to stop mumbling. Soon enough, he seems far too conscious of how menacing he should look on screen.
Also read: 'Thin line between sensual and vulgar': Shabana Azmi on Bollywood item numbers
Things are almost concluded as a farce, as if there wasn't enough money left to provide the resolution after setting up a million conflicts. By the end, it's easy to forget how smart and surprisingly self-aware the first hour is. Such a pity, because Global Baba could have truly gone global in India.