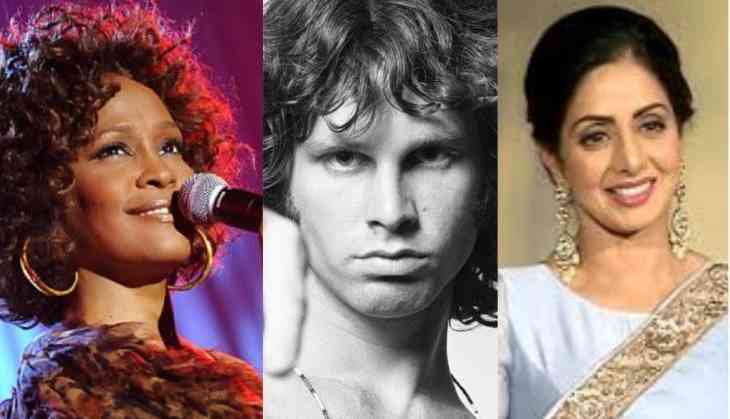 Indian cinema is under a big shock on losing the versatile actress Sridevi, who died on 25 February in a hotel room in Dubai. Earlier it was reported that the actress died due to major cardiac arrest. But according to the report of the forensic investigation agency of Dubai, Sridevi died due to accidental drowning in the bathtub.
However, Sridevi is not the only celebrity who died due to drowning in the bathtub. Other than Sridevi there are few celebrities to had a mysterious death in the bathtub. Here we are going to tell you about them.
# Judy Garland: A popular actress cum singer from America died at the age of 47. Born on June 10, 1992, the actress became a very famous a young at and had a huge fan following, she was a perfect package of singing and acting. Judy's mortal body was found in the bathtub in the London based rented. The popular and talented actress had a mysterious death.
# Jim Morrison:
A very popular singer and poet, Jim's "The Door' album are quite famous, in which he was the lead singer. American born Morrison died at the very young age of 27. He was found dead in the bathtub of his apartment in Paris. The report says, he died due to a heart attack.
# Bobby Christina Brown:
A popular name of media personality, American Reality TV, and a well-known singer died at the age of 22. Bobby was the daughter of a popular singer cum actress Whitney Houston, who also had a mysterious death. She also died due to the drowning in the bathtub.
# Whitney Houston:
A well-known American singer, actress, producer, and model Whitney Houston had a very mysterious death. The actress was found unconscious in a bathtub in her hotel room. The actress had filed her name in Guinness World Records in 2009. Two days before her death Whitney gave her last performance.
Also read: Talk show host Simi Garewal finds some uncanny similarities between Sridevi and Whitney Houstan's death