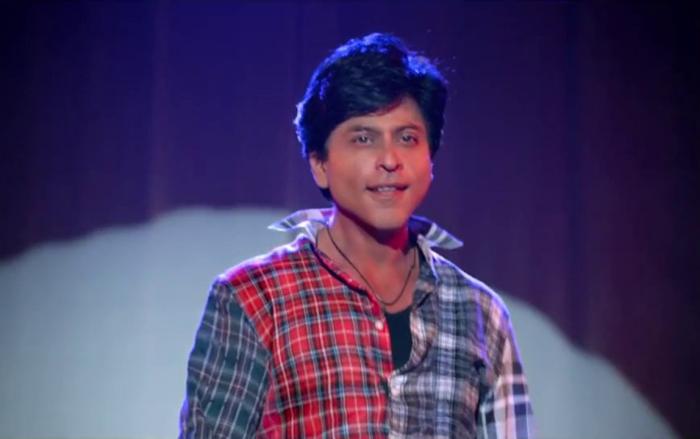 Looks like
Shah Rukh Khan
is taking a break from the inane 'action slash rom-com' films he's been churning out at an alarming rate recently. The trailer of his upcoming film, Fan, directed by Maneesh Sharma of Band Baaja Baraat fame, is nothing like anything we've seen from SRK since 1994 when he reprised his Darr role in Anjaam. He is, without a doubt, the best obsessive-compulsive stalker boy Bollywood has ever produced. Such conviction, much madness in his acting.
Fan's trailer introduces us to Aryan Khanna, the superstar and Gaurav Chanana, his deranged fan. Deranged because as a 'gift' to Aryan, he clearly misbehaves/bullies/does something bad to a rival actor. We're conjecturing here, but after watching the trailer in slo-mo and freezing the frame at 1.01, we're sure that is what it is.Check out the trailer again, in case you missed it before:
By the looks of it, here's what this trailer could possibly mean. SRK fans, take note:
It is quite possible that the SRK of yore - the man who creeped us out in Darr, Baazigar, Anjaam, is making a comeback. As is right because damn, what a brilliant creep he made.

Oh, and not only is our favourite 'Bollywood psychopath' coming back, he is doing so with a double role.

The scene where Aryan Khanna meets and tries to get his fan to back off is so good that he has us convinced that these are two different people - Shah Rukh Khan and his loony fanboy. Is he trying to make up for the League of Brainless Cinema - Dilwale, Chennai Express, Happy New Year, Ra.One, Jab Tak Hain Jaan?

After a LONG time, a Shah Rukh Khan film trailer is not about him romancing a heroine. This probably took a lot of restraint on his behalf. Finally coming of age? Hopefully.
Does this mean he's finally taken a long hard look at his association with Rohit Shetty and decided he knows better and can do better. Either way, rejoice folks. SRK, the actor, is making a grand comeback and fan or not, you've got to appreciate this move.
--
Edited by Aishwarya Yerra