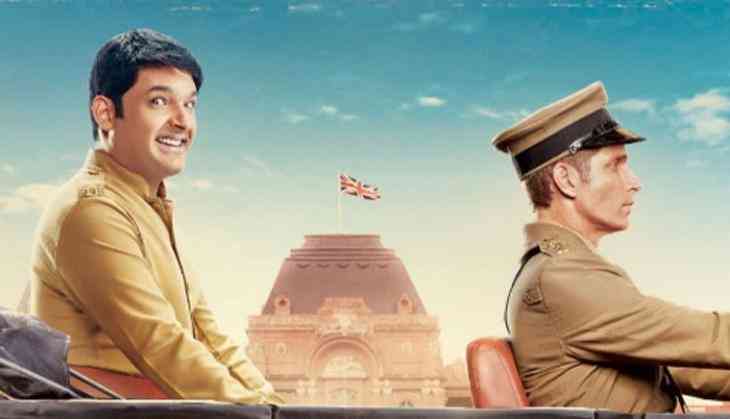 Firangi Movie Review: This Firangi is boring, Kapil Sharma doesn't suits to the character
Firangi Movie Review - Kapil Sharma's most awaited film Firangi has hit the screens today on 1st December, the film has directed by his close friend Rajiv Dhingra. Kapil is making his debut as a producer through this film so success is something that Kapil wants in every term now.
Movie Name - Firangi
Star Cast - Kapil Sharma, Ishita Dutta, Monica Gill
Director - Rajiv Dhingra
Producer - Kapil Sharma
Music - Jatinder Shah
Genre - Comedy Drama
Critics Rating - 2 stars
STORY
The story of the film set in the 1920's when British government rules India, this time was the same when the Mahatma Gandhi was doing protests movements against the British government. Especially, the Non-cooperative movement was in the full power that time. The story is of Mangta Raam alias Mangu (Kapil Sharma) who is not aware of changes that are happening around him.
Well, Mangta Raam is unemployed but his leg has a special power and it is like the old tradition of India, that whoever had pain in the back can get relief if any person who was born upside down kicks his back. His this speciality helps him and his destiny reaches him to British Officer Daniel who is impressed with his this technique. He even gets a job in government, but the things get turned wrong when Mangu's lover Saargi (Ishita Dutta) denies marrying him as he works for the British government. Now many turning points come and the story finally reaches its comic end.
DIRECTION
This film of Rajiv Dhingra is set in British ruling time, however, his direction has not been so good with the film. The film is very slow and it has stretched to 2.40 hours, it is unreasonable. Dhingra is even failed to make his actors give their best in performances. The role that has written for Kapil doesn't even suit him.
PERFORMANCES
Kapil Sharma is a great comedian that is known and there is no doubt about it, but he is failed as Mangu maybe because his role has most emotional scenes than comic scenes. Even the actor who has played the role of British officer has done overacting many times.
MUSIC
Jatinder Shah has given music in the film, and he has tried to make the music like Anushka Sharma's Phillauri but he totally failed to give any memorable song to it.
VERDICT
If you are a huge fan of Kapil Sharma and you are able to watch only Kapil Sharma, you are not interested in the story then you can watch it once.