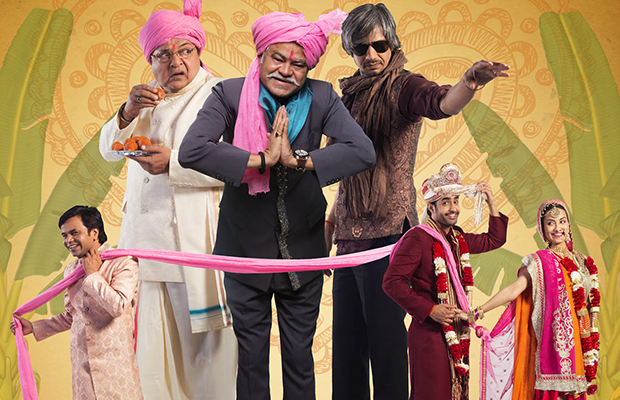 A comedy designed around the absurd practice of small-town \'proxy\' weddings
Overdependence on Sanjai Mishra and Vijay Raaz to carry a 140-minute saga
Outlandish characters aside, film fails to consistently tickle funny bone
Rajpal Yadav hams again, ruins potentially riotous situations
A good situational comedy revels in familiarity, but surprises with sequence. It depends heavily on the viewers' ability to recognise - but not predict - the enormity and frequency of cliche. Director Aijaz Khan, also one of the actors in a cast overpopulated with the usual (small-town-Indian-satire) suspects, understands this aspect of crafting a typically loud wedding-comedy of errors.
He understands that hamming routines and relentless repetition of sequences can annoy viewers into submissive fits of giggles. He also understands that the sheer quantity of characters and their needless idiosyncrasies are directly proportional to the organized chaos of extended Indian families and their wedding dramas.
Comic genre basics look clean on paper, stretched on screen
Therefore, a ridiculous plot - that of a debt-ridden father's son (Satyajeet Dubey; looks 15) filling in as a proxy groom (because Pandit says so) for a 35-year old man-child named Baankey (Rajpal Yadav) - is par for the course. His family is, of course, in on it, and spends most of the film trying to eliminate whistle-blowers - a simpleton Sardarji guest, the bride's childhood friend and suitor (Anil Mange; typecast as the heartbroken third wheel in romances; must be his eyes), an eccentric relative, another fake groom, and all that jazz.
This family has a loan shark uncle (Sanjai Mishra), a food-lusting father (Rakesh Bedi), and ubiquitous local goon Lallan (Vijay Raaz); they combine to make the actual wedding quite an amusing sequence of mix-ups.
Mishra and Raaz are fine actors, but they've been on autopilot for a very long time in these same roles. Given their calibre, one expects them to explore more dimensions and different shades of characters; they've earned these expectations through years of natural performances. Ironically, it's this easy familiar charm - of them being themselves, and probably improvising most of their lines (especially their mumbling off-camera), that keeps the film honest in between.
No more Rajpal Yadav, please
At times, it's almost possible to forget that perpetual B-movie stars Tia Bajpai (an immensely unlikeable bride) and Rajpal Yadav are part of this goofy saga. Yadav, not for the first time, enacts his role like he's part of a desperate dying silent film era; he hams like a cross between a boy discovering porn for the first time and Peter MacNicol's creepy rendition of Dracula's assistant in Mel Brooks' outrageous Dracula: Dead And Loving It.
You almost expect Yadav to flap away into eternity and be exiled from Bollywood once and for all. He is not funny, and never will be, as long as directors continue to let him behave like a mental delinquent on screen.
Director Khan and many like him have often overlooked the importance of a good setup. It's not promising when the mandatory 'Punjabi!' echo accompanies a jogging Sikh on screen. A voiceover to introduce the small Himachali town, the film's three families, character traits and histories isn't exactly ambitious writing.
The love story between the proxy groom and bride is treated with an absolute reluctance (or inexperience) for convention. It doesn't help that when conflict inevitably arises, he reminisces about all the great times they've had; only, they've never really been to all the places he's thinking about; he's actually reminiscing about their dream sequences and song locations, not actual memories!
If this film hadn't starred Rajpal Yadav, and hadn't so obviously relied on the reputations of Mishra and Raaz, it would've been far more organized in its aim to tickle. As of now, Bollywood's wait for a decent comedy is, in itself, quite the frustrating situational comedy for hopeful film critics.