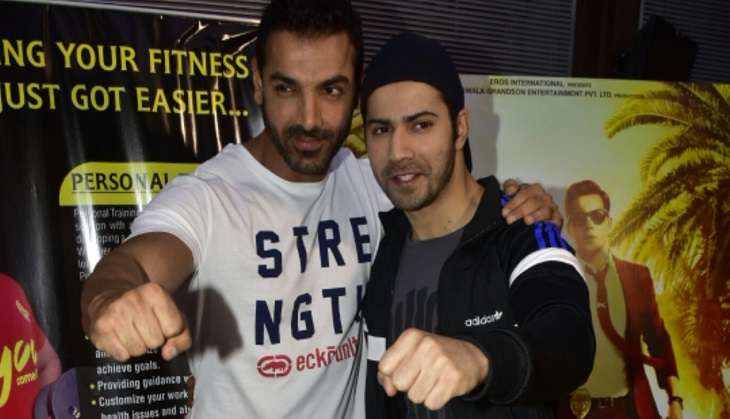 Rohit Dhawan's second film Dishoom stars John Abraham, Varun Dhawan, and marks the return of Akshaye Khanna. Rohit talks about how he was convinced by Sajid Nadiadwala to make the film and reveals the kind of action to expect from Dishoom.
It has been five years since your directorial debut DesiBoyz. How did you come up with the idea of Dishoom?
When I was writing this, I was at a very lazy stage. It had been a couple of years since Desi Boyz (2011) and I was helping dad (director David Dhawan) out with Mein Tera Hero (2014). I had a couple of ideas at that point so I called Sajidbhai (Nadiadwala, the producer) and shared them with him. He tapped on to this idea and it was the sheer confidence and faith that he showed with me which allowed me to fly.
So Sajid Nadiadwala had a major role to play?
He helped me to go ahead and write it, to get back to work. It's all thanks to him; he just got everything together for us.
Your first film was laced with humour. How would you describe Dishoom?
It's more of a buddy cop film -- that's the world this film is based on. There is not too much slapstick comedy but there is a lot of humour. Both the characters are very different and the film has a lot of light-hearted humour packed with action. The film is based in the Middle East.
The film seems to have a lot of action sequences.
On the set, we had very good action directors -- Stefan from Germany, who had previously worked with Sajidbhai in Kick, and Allan Amin who is a very popular Hindi film action director. You will see some pretty spectacular action in the film. It's larger than life and it involves a lot of different vehicles and it's all done by John and Varun.
Was it easy to work with John Abraham once again after Desi Boyz?
He is a boon for us, John used to check all the safety issues. He didn't allow any stunt to take place unless he had checked the safety, the ropes, steel harnesses ... only then he would he get on the speedboat, chopper or fast car. John has broken many bones in 15 years of films.
Do you think masala films are taking over other genres of films?
I am a huge fan of the masala genre and I am always going to stand by it. But at the same time, we have to reinvent it, there should be a constantly fresh take at the masala genre. We don't want the same thing through the years. The films that have reached Rs 100 crore have reached that mark because there has been something about those films that has worked pan India. But at the end of the day, the writing needs to be better and we have to think how we approach masala films.
-- Sourced from Anita Britto, Bollywood News Service