From the supportive husband in Mary Kom to the scary villain in NH10, Darshan Kumar has played a diverse range of roles. Now he tackles another challenging role in Sarbjit.
After Priyanka Chopra in Mary Kom you are now working with another beauty queen, Aishwarya Rai in Sarbjit.
All my friends are jealous of me because I am working with the Miss Worlds but I am not letting them meet the ladies. Both Priyanka and Aish are international stars, beautiful, and talented. I feel blessed working with them.
Was it easy for you to bag Sarbjit?
Yes, you can say that. Since I had worked with Omung sir (Kumar, the director) in Mary Kom, we had a good relation. When he told me about this role I quickly grabbed the opportunity. Working with Omung sir is always fun. He is very humble and he will keep giving tips to help you improve your work.
But the role was a challenge. When you are doing a biopic, it is always a double-edged sword. There is a real character and audiences can easily Google and check; so you have to try to go as close as possible to the character.
Also read: #CatchChitChat: Sarbjit artist Subhash Shinde on whether VFX will ever replace make-up
What role are you playing in the film?
I play Awais Sheikh who defended Sarabjit. It has been a tough role because his journey had been a tough one. He almost bailed Sarabjit and he has released five-six Indians from jail. While researching, I was impressed with him as he had done an extraordinary job for the sake of humanity. He was not scared for his life. To imbibe all the qualities of this man in one frame was difficult, but I enjoyed playing the part, learning his mannerisms and dressing like him.
How was the experience of working with actors like Aishwarya Rai Bachchan and Randeep Hooda?
When you work with good actors, half your work is done because a good actor takes a normal scene to a different level altogether. I was happy that I was getting to work with Aishwarya Rai Bachchan and Randeep Hooda.
I know Randeep since my theatre days; our guru is the same -- Naseerudin Shah, so we both knew our techniques. Since we knew each other, our chemistry was different and we shared a good equation. Our scenes in the film are very emotional.
Also read: Sarbjit: This is why Omung Kumar can't get over Aishwarya Rai's dedication to acting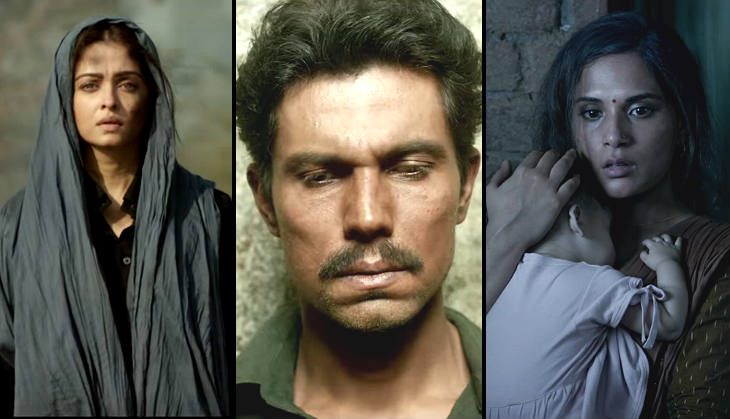 Aishwarya Rai Bachchan/ Randeep Hooda/ Richa Chadda in Sarbjit (YouTube screen grab)
What's next?
I have been training for a very long time now and now I want to do an action film. I would also like to do comedy and commercial films - I would love to dance around trees.
Also read: Why are Salman Khan's efforts in the Sarbjit saga missing from the Aishwarya Rai film?
-- Sourced from Anita Britto, Bollywood News Service