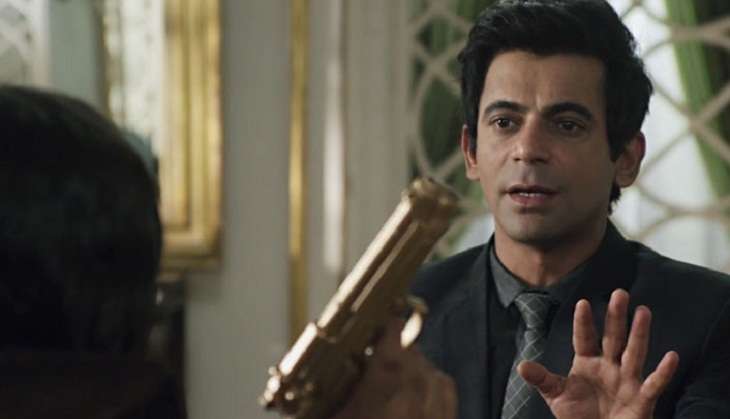 Vishal Mishra directed Coffee with D starring Sunil Grover is supposedly a satire on TV journalism and errr....underworld. But instead of being funny or insightful, it is excruciatingly dull at points and unwittingly hilarious at other points.
Arnab Ghosh (Sunil Grover playing a character so obviously inspired by TV anchor Arnab Goswami) is desperately seeking to up the TRP rates for his channel and so he finds a way to interview the 'dreaded' don, Dawood. On paper this might have looked like something with potential, even though D has been spoken and referred to in innumerable Hindi films earlier. But what transpired on screen is a laughably tacky film that obviously didn't even have the budget to re-create a police station or even a decent newsroom.
Zakir Hussain plays D, with a weird wig and that infamous dark glasses. Oh and Arnab has a pregnant wife who goads him to do better because she in spite of being a "crime reporter" married him. If you haven't figured what that really means, don't worry. The rest of the movie makes no sense either.
The big climax where Arnab supposedly takes on D is the last nail in the proverbial coffin. Uninspiring dialogues, hideous closeups that go on forever and lack of direction makes this a film to be avoided at any cost. Sunil Grover is floundering throughout as he is unable to manage either the body language or the charisma required to play the character he does.
We hear the film had to be delayed because of supposed threats from the underworld don. One would think Arnab Goswami should be more offended by the director's choice of the actor to play him on screen.