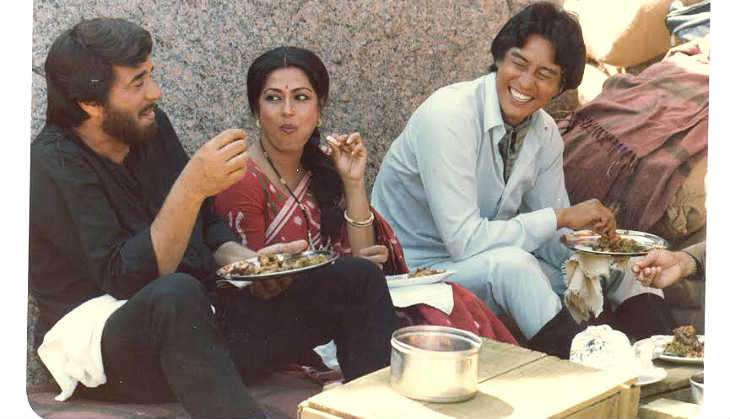 I shot this picture of Moushumi Chaterjee with Dharmendra and Danny in 1986 during the lunch break of Pahlaj Nihalani's Aag Hi Aag on the outskirts of Bangalore. The rocky terrain of the location was the one on which Amjad Khan's den was established in the epic hit, Sholay.
In 1988, I was with her again when she was shooting with Dharmendra for Sikka in Chennai. Dharmendra told her, 'You are looking very pretty in this sari." I spontaneously said, "No, you are making this sari look pretty."
Moushumi broke into peals of laughter and said, "Dharamji, seekho seekho. This is the right way to compliment a lady."
Blessed with the ability to think on her feet, Moushumi was famous for her clear-hearted honesty and her witticisms. When a senior actor, notorious for making co-stars feel awkward, deliberately called her Mosambi, she started addressing him after changing the first letter of his famous appellation. When he pointed out the error, she retorted, "And I am Moushumi, not Mosambi."
I am grateful to Moushumi for speaking about me in glowing terms on a TV show in the 1990s for which both she and I were invited to speak on the eternal debate -- Stars Vs Scribes. She left the TV host at a loss of words when she told him that I was a fair and unbiased journalist, unwittingly proving to be a wet blanket on his plans to have a fiery debate.
When I first met her at her Nibhana residence, while her husband Babu relished his fish and rice, Moushumi and I drank a coconut-based white rum drink, Malibu. I took a fancy to the drink, and remember her each time I drink it.
Chattering like a magpie, she has told me about her early initiation into Bollywood as the famous singer-composer Hemant Kumar's daughter-in- law.
She said, "I was invited to receive my Filmfare Award for my debut Bengali film, Balika Bodhu in Mumbai. In those days, the only famous face known to me was Joy Mukherjee, whom I had met at a pooja at his filmmaker father S Mukherjee's Grotto Villa. The first time Babu drove me around Pali Hill (where I live today), I felt very scared as it was very sparsely populated those days and the bungalows were few and far between. Babu was unlike the Kolkata boys I had come across. He was very broadminded and socialised a lot. Since I had come from a conservative family, I was surprised to see his men and women friends mingle with each other." Today, of course, Moushumi radiates confidence as she holds her won against even against Amitabh Bachchan and Deepika Padukone as seen in the recent Paa.
The articulate and opinionated Moushumi has promised to participate in Let's Talk Over Chai, a debate group that I have initiated, but she has yet to honour it.
-- Sourced from Dinesh Raheja, Editor, Bollywood News Service