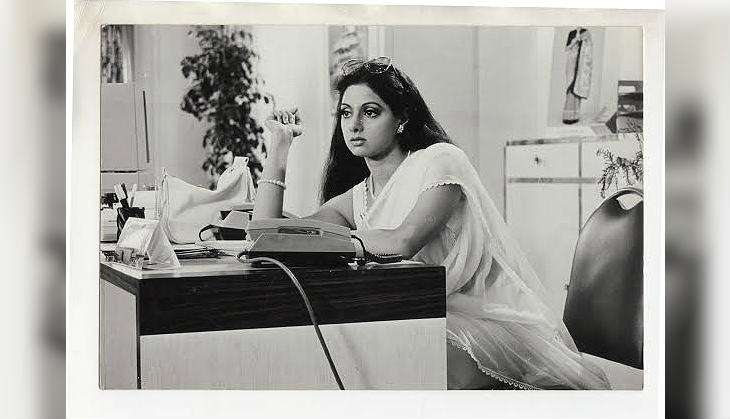 This picture of Sridevi, the reigning queen of the 80s, was shot in 1988 at a suburban studio in Mumbai during the shooting of Yash Chopra's Chandni.
Looking resplendent in a chiffon sari, Sridevi was waiting for Yash Chopra to set the lights when I took advantage of the break and quickly shot a series of her pictures.
I was a raw newcomer when I was first introduced to an unsure and soft-spoken Sridevi by publicist Gopal Pandey at the silver jubilee function of Farz Aur Kanoon in 1982 in Chennai. He said, "This is Sridevi, a South star. She will soon be seen in Hindi films."
We said our hellos and went our ways. She entered Hindi films and quickly became the undisputed number one heroine. When I became the editor of Movie magazine six years later, I wanted to begin with a bang; so I decided to bring superstar Sridevi and overnight star Aamir Khan (post Qayamat Se Qayamat Tak) together on the cover of the magazine.
Also read: #CinemaSnapshot: How Anil Kapoor hasn't changed at all from his Mr India days
When her secretary Hari Singh re-introduced us, that unsure girl had now metamorphosed into a self-assured star. She told me she wanted to see my earlier work and though I found that strange - it was like an audition for me - I complied. She quickly gave her assent and we shot the cover.
Sridevi didn't indulge in small talk - she only spoke in her baby voice during interviews. But sometimes the child within her was glimpsed. Once when a colleague was interviewing Sridevi in my presence, she excused herself and asked me to step aside; whispering, "She (the interviewer) is asking me, 'What do you think about the changing face of Mumbai?' How can a city have a face?"
While interviewing her for a story that I eventually titled, Giving the Devi Her Due, I told her, 'I feel a little bit of Sadma continues to linger in all your other characters...' and Sridevi baulked and giggled: "Oh no, don't tell me."
Also read: #CinemaSnapshot: When Dimple Kapadia couldn't explain why she worked in Ram Lakhan!
She's child-like but not childish. I went on to feature the star on many a cover (a golden turbaned solo shot by Rakesh Shrestha is one of the many she liked) and did several interviews with her.
For the Hyderabad release of my book, The Hundred Luminaries Of Hindi Cinema (co-authored by Jitendra Kothari) at the Walden book shop, only Anil Kapoor was originally supposed to do the honours.
But despite a last-minute invite from me, Sridevi who was shooting for Judaai with Anil, graciously attended the book release. She even cut the cake, which was imaginatively shaped like the book.
Also read: #CinemaSnapshot: When he was just the Prem of Maine Pyar Kiya and not 'The Salman Khan'
-- Sourced from Dinesh Raheja, Bollywood News Service