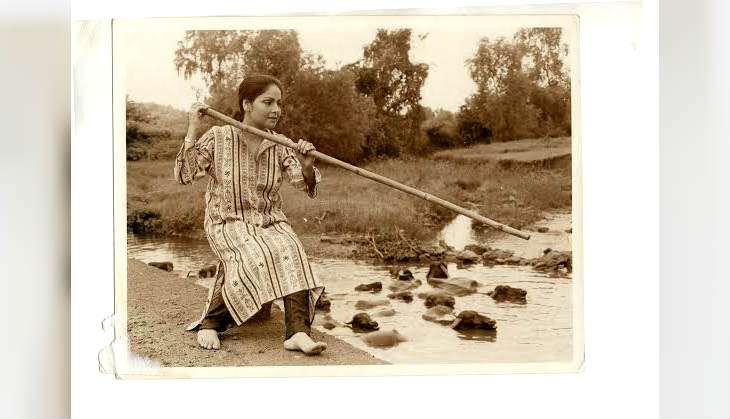 I shot this picture of the hazel-eyed beauty Raakhee at her Aptegaon farmhouse in the late 1980s. Raakhee was already a senior actress when I entered journalism and I was a bit afraid of her famously whimsical temperament. My photographer friend, Jagdish Mali (God bless this wonderful man who unfortunately died in his prime) introduced me as, "Raakheeji, yeh mere dost hain, Dinesh. He is afraid of you."
She smiled serenely and impishly asked me, "Why are you afraid of me? Main tumko kha jaaungi?" Later, while Jaggi shot colour pictures, I excitedly shot black and whites of this gorgeous woman.
Raakhee had given her farmhouse to director Vishwamtira to shoot for a small budget film, Mere Baad, co-starring Anupam Kher. And the actress cooked a meal comprising biryani and fish for the entire unit, including me. The biryani was hot, and the Bengali-style fish curry, cooked in mustard oil, a novelty for me (I gave up non-vegetarian food two years later, but that is another story). She took great pride in her culinary expertise ... and deservedly so.
In the post-lunch break, she retired with her hairdresser and constant companion Khatija to a room that had a creaky fan; no air conditioner. Since we had finished with our interview, we made idle talk. I have always felt small talk reveals a lot more about stars than recorded interviews. She told me that she never ate in banquet rooms at five star hotels because she wasn't comfortable eating with a fork and knife.
"Mujhe haath se khaana achcha lagta hai, so I starve at parties; I order room service when I am at location shootings." She also told me that she preferred to sit in the middle of the car in the backseat. "I feel more secure that way."
Dev Anand was her favourite hero and she said gently, "He doesn't have a single enemy in the industry -- a true blue gentleman."
Almost a decade ago, I met her at her Bandra house. She had expressed a desire to eat Sindhi food, after casually mentioning, "When I first came to Mumbai, I stayed with some Sindhi friends."
My wife packed Sindhi curry, rice and aloo tuk for her, which Raakhee relished. Though she had had a string of hits as a mother (Ram Lakhan, Baazigar, Khalnayak, Karan Arjun), she told me she wasn't keen to do more films; she preferred spending her mornings reading newspapers from the first page to the last; and busying herself with housework.
"And I love going to my farm," she stated placidly. I lost touch with her after that day. For the past few years, even my birthday messages on 15 August have gone unanswered. I can't help humming, 'Khilte hain gul yahan, khil ke bikharne ko'.
-- Sourced from Dinesh Raheja, Bollywood News Services