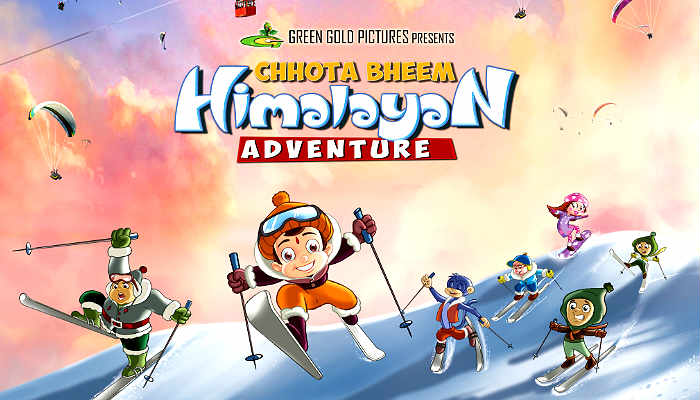 Voices of: Jigna Bhardwaj, Rupa Bhimani, Kaustav Ghosh, Rajesh Kava, Sabina Malik and Julie TejwaniDirector: Rajiv Chilaka and Rusauro B. AdorableIANS Rating: **1/2 (out of 5)
The animated wonder boy Chhota Bheem has acquired an iconic stature among the young Indian television audience. Those who have grown up seeing the popular TV series created for Pogo TV are now staunch fans of the little character.
Chhota Bheem Himalayan Adventure is the third film on Chhota Bheem after The Throne of Bali and The Curse of Damyaan.
For the uninitiated, Chhota Bheem and his friends Chutki, Raju, Kalia along with Dholu, Bholu and Jaggu the monkey live in a fictional town of Dholakpur ruled by King Indravarma.
In this edition, Indumati, the princess of Dholakpur, expresses a desire to play with snow and enjoy the adventurous winter games. So, the entire entourage travels to the kingdom of Manali in the Himalayas.
During the trip, Manali is reeling under constant attack by the bandit Hidimbak and his troupe. So entry into the Himalayan state is forbidden.
Dhiru, one of the soldiers of Manali, feels sorry for the royal entourage. He suggests that they can still enjoy the winter sports on the outskirts of Manali in his father's estate and he instructs his dog Juju to lead them to his father Sardar Negi.
The children learn skiing and soon have a faceoff with the bandit.
The story is simple and meanders aimlessly with fun-filled skiing and life's lessons. The plot and the screenplay, though laced with verbose exposition, is uncomplicated, smooth and direct with much emphasis given to the exploits in the Himalayan terrain. And the fun-packed action sequences are exhilarating.
Most of the dialogues are derivatives of famous dialogues of Hindi films and they are delivered in the same tone and tenor of the original, giving it a total Bollywood flavour.
The song Zip, zap, zoop and the rap number Himachal ka Raja hu main are bright and lively. They break the monotony of the action and yet keep the audience engaged.
The screen is filled with a colourful palette. The 2D animation - though a bit backward given today's advanced digital technology - is visually exciting.
Though amateurish, the film is an exciting escapade for its young audience.
- IANS