Jhinuk Sen
| Updated on: 6 October 2017, 16:03 IST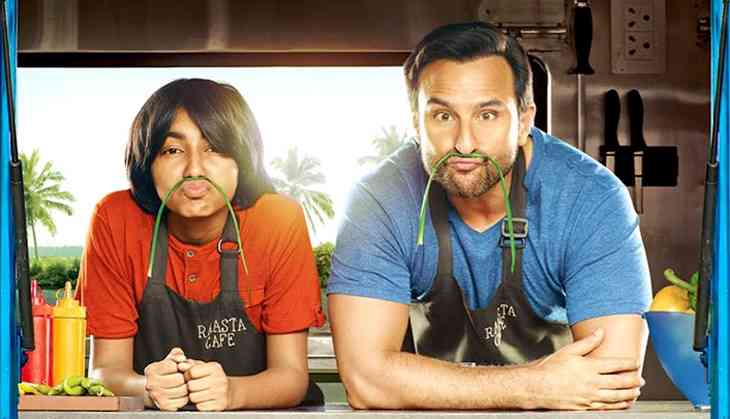 If a movie premised on food doesn't make you hungry, what is the point of it at all? While Jon Favreau's Chef made you want to reach out and grab the nearest food, director Raja Krishna Menon's Chef, adapted from the original, turns you off even the popcorn in the cinema.
It may seem harsh, but it is unavoidably true. This movie is an exceedingly insipid plate of bad home cooked food. It could have been fun, it could have made you think about what you want to order for lunch even before the interval, but it does not.
A bad script
Roshan Kalra (Saif Ali Khan) has a few Michelin stars on his white chef's shirt. But not once is he shown cooking up a storm, ever. He loses his cool and punches a customer in his New York restaurant and gets fired. The script does not bother to explain the reason behind the meltdown, it just happens because it happened in the original.
Roshan returns to India, as suggested by his colleague Vinnie (Sobhita Dhulipala – you will remember her from Raman Raghav 2.0) and makes his way to ex-wife Radha (Padmapriya Janakiraman) and son Armaan, or Ari (Svar Kamble).
As he cavorts around Kochi, Roshan is offered a business idea by Radha's friend Biju (Milind Soman – who looks absolutely delectable in a mundu). After some initial hesitation, and (rather baseless) soul searching, Roshan takes a dilapidated bus and turns it into a food truck.
The rest of the story tries to follow the original. It feels like they were strictly told to do so or else they would be sent to bed without supper. And frankly, with the food Roshan cooks – bed without supper would have been merciful.
No love for food
Carl Casper, in the original movie, loved his food, and the camera made sure that you knew that. Roshan's romance with what he eats gets digested in the first five minutes of the movie and never comes back.
The young Roshan looks at chole bhature with more love than the adult Roshan looks at his ex-wife. He is just seen making a tomato chutney with some love and then the rottaza, the food truck's signature dish, with just about a sliver of passion.
If you are looking for those great food shots, don't. There are none. Even local food show promos are better shot nowadays. Kochi looks great though.
In fact, what on earth is a Rotazza, even? Paneer/egg bhurji/keema between two paranthas and cheese? Really? We aren't demanding Cuban sandwiches in this one – but kya yaar! A little imagination, please!
Dull drama and throwaway racism
The director tries to take the story ahead by delving deeper into Radha and Roshan's relationship, and by creating a father-son tussle to add some weight to Roshan's how-I-became-a-chef story. But again, it lacks spice and it lacks flavour.
There is a racist joke thrown in when the character played by Chandan Roy Sanyal (Nazrul) lands up in Kochi to assist his ex-boss. Roshan asks – "Taar paar kar ke, goliyan khate hue aaye ho?". Sanyal's character is from Bangladesh.
There is a casual Dil Chahta Hai reference too – Roshan talks about a story where he visited Goa with two of his friends, met a hot foreigner and got robbed. That's what happened to Sameer, the character Saif played in Dil Chahta Hai.
So is there anything remotely appetising about Chef?
Yes. One thing.
The acting just about manages to salvage a little. While Padmapriya and Svar Kamble appear the most genuine, Saif is not half bad. He does what he can with the script that has been handed to him, like the chocolate lava cake from the original film. Sadly, it isn't enough – like it wasn't for the food critic Ramsay Michel (Oliver Platt).
The camaraderie between Nazrul and the bus driver Alex is gold. Sanyal has been horribly under-utilised in this film as well.
Should you watch it?
Don't bother if you liked or loved the original. You will not want to eat anything they cook and that is a terrible thing for a movie like this one.
Rating: 1.5/5