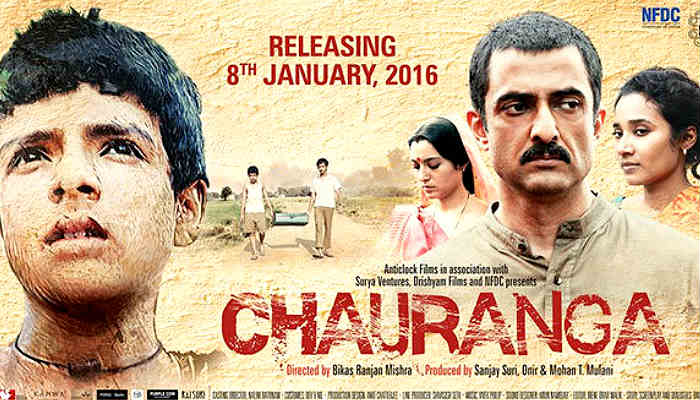 Rating: 2.5 stars (out of 5)
Official selection at the 2010 NFDC Screenwriters\' Lab and Berlinale Talent Campus script program
\'India Gold\' Winner at Mumbai Film Festival 2014
Director Bikas Mishra is a film critic and founder of DearCinema.com
Director Bikas Mishra's first film is a strangely hypnotic piece of work. As events unfold, Chauranga comes across as an uneven, atmospheric exploration of social dichotomy in an India we have only heard of. But by the end, it does feel like something uneasy has been communicated.
A dozen Salman Khan references aside, there's no 'exotic India' hangover or deliberate leaning towards rural glorification. Not quite the lawless badlands of Bihar, these are the forgotten lands of retribution. Certain images, a few characters, their sins, eyes, flaws and hypocrisies - they stay with you, despite being restrained by the kind of idealistic filmmaking only an impassioned debutant can produce.
About A Boy
Rather lyrically, the title refers to a pen with four colours of ink, one of which is used to write a love letter. This letter is significant not only because it jolts the stagnant narrative into a final flurry of spiraling depression. Its existence also demonstrates one of (too) many immediate contrasts the film presents.
It contains the emotions of an infatuated, illiterate Dalit boy (Soham Maitra; very competent) within 'filmy' words written by his educated older brother (Riddhi Sen). The boy believes he is destined to be more than just a pig-handler. He is besotted by the young daughter (Ena Saha) of the wealthy village big-shot (Sanjay Suri), who, in between secret steamy sessions with the boy's mother (Tannishtha Chatterjee), promises to send him to school one day.
Solid Technique
Mishra succeeds in giving his film a sunken language. The camera trembles, unsteady like the moral compass of characters in play. Sound designer Arun Nambiar's remarkable understanding of space lends them a hollow, claustrophobic landscape - which they navigate as if they're always being watched. Love and trust are luxuries they can't afford. Long stretches of silence make this more of a moody 'feel' film than a multi-faceted drama. It forever feels like doom, death and bad luck lurk just around the corner. Only the brother's eyes shine with hope, perhaps because he is only visiting from the city.
Haunting moments
Tannishtha charms as the woman torn between her sons' futures and the village's blinding patriarchy. On one hand, she fends off the lewd advances of an omnipresent sidekick with vivid bravado - something on the lines of how she had once washed his 'man parts' when he was a baby. On the other, she spends sweaty nights sprawled under Suri in haystacks - forever in sexual debt for educating her son.
Overcrowded Narrative
However, Mishra bites off more than he can chew. In his quest to shine a quiet light on the many faces of class disparities, he gets greedy with his storytelling. He overpopulates the film with littler parallel tracks; they're all relevant and even interesting, but just deserve separate films.
A perverse blind priest (Dhritiman Chatterjee), random shots of a poisonous snake (who will matter at some point), a brutalized pig, Suri's disillusioned wife (Arpita Chatterjee; eerie resemblance to Tisca Chopra), the boy's constant spying on someone or the other, the purification of a well - all ongoing arcs that aren't given complete justice. As offshoots, they're not placed very well, or maybe there's simply too much to digest.
Thankfully, that letter disrupts the monotony of tyranny. It leads to a synthetic outbreak of urgency, which is perhaps what dark hinterland sagas thrive on.
Respectable first effort
A slate with statistics at the end somewhat diminishes the film's artistic relevance. In an environment where 'untouchables' reluctantly co-exist with their oppressors, numbers don't begin to tell the story. Chauranga isn't hard-hitting that way; it maintains an odd distance because of how its parts quarrel to form a whole.
I only walk out with a vague sense of what it must feel to be shaken. Hopefully, Bikas Mishra's is a throaty voice that will only become clearer in time.