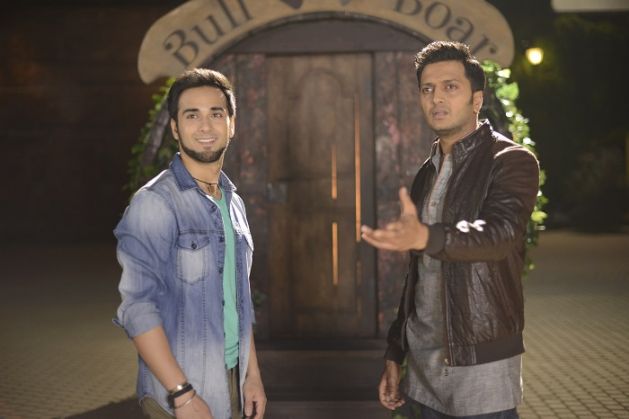 Film critic Karan Anushman's directorial debut Bangistan is a satire on terrorist activities across the globe. As the film releases on August 7, 2015, at a promotional event, the lead actor of the film Riteish Deshmukh shared his thoughts about various issues going around the film and our country.
About the ban in Pakistan
"The Pakistan Central Board of Film Censors has banned the film over there by just having a look at the promo. In isolation, things will look different as the main purpose of the promo is to titillate the audiences.
"When you watch the film in totality, you will realize what the message of the film is. The film is a fight against terrorism and not a particular country. If people in Pakistan watch Bangistan, the people will realize that the film is not against any religion or nation but it is against a section of people who are into terrorism. It does not talk about Pakistan or India."
About 100 Crore Club
"I feel 100 crore has now become a benchmark to judge the success of the film and that is great. I will give you an example, in a cricket match, if the target is 75 runs, why should team chasing score 100 runs?
"Our film is made on a limited budget and we don't need to earn 100 crore at the Box Office to be called a success. The success of a film depends upon the budget and not the 100 crore club."
About celebrities being the soft target
"I think the celebrities can have an opinion about any issue and it is their right to have an opinion. It can be positive or not positive. What Salman tweeted was very clear. What he meant to say was very clear. In the world we are living right now i.e. social media, people like to react on everything without even understanding them. Hence that created a lot of controversy.
"And Salman Khan even took back the tweets stating that people have misunderstood them. The only problem with social media is that people react prematurely without even understanding the issue, post which the big debate starts making the issue very large.
"So yes, many a time's celebrities do become soft target. It is because of such reactions that the actors shy away from giving their opinion in public. The opinion on national issues is similar to give an opinion of films. Do people come and protest outside a celebrity's house because he did not like a particular film?"