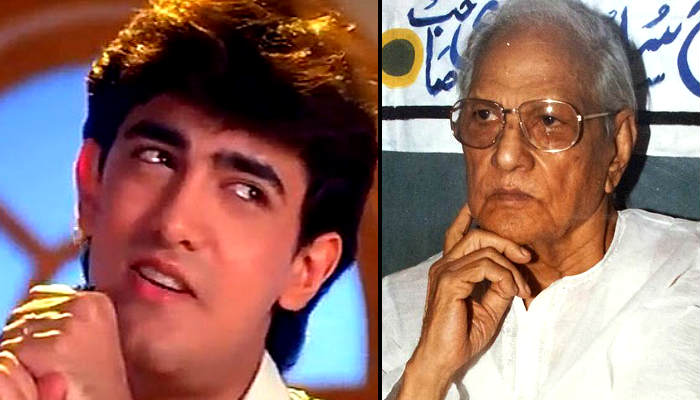 Main akela hee chala tha janibe manzil magar... Log saath aate gaye aur carvan banta gaya!

(I set off alone towards the destination but, people joined by and by and lo! Soon it was a caravan!)
Not many know that this, but these popular verses from Urdu poetry, were actually penned by Majrooh Sultanpuri -- Hindi cinema's first lyricist to have received the prestigious Dadasaheb Phalke Award in 1993.
One of the most celebrated poets and lyricists in the history of Indian literature and cinema, Majrooh Sultanpuri was initially apprehensive about entering the film industry. He had just discovered his flair for Urdu poetry while performing at various mushairas in Uttar Pradesh when he got an offer from an impressed producer AR Kardar, who happened to attend one such mushaira.
Sultanpuri, who did not hold the film industry in high regard, refused to be a part of it. However, only when his mentor and famous Urdu poet Jigar Moradabadi intervened, did he agree to move to Bombay (now Mumbai).
Jigar Moradabadi had told Sultanpuri that the Bombay film industry would allow him to earn a good income, enabling him to provide better for his family.
After agreeing to try his luck in Bombay, Naushad auditioned him by giving him a tune and asking him to write lyrics for it. This was when Sultanpuri wrote Jab usne gesu bikhraye, badal aaye jhoom ke... This song went on to be a part of Shahjehan's (1946) soundtrack and he also ended up penning down lyrics for rest of the other tracks in the movie.
With the appreciation that Shahjehan's music received, Majrooh soon gained immense popularity in Bollywood. He followed up Shahjehan's success with some of the best known masterpieces of Hindi film industry -- Tumsa Nahi Dekha, Teesri Manzil, Dil Deke Dekho, Baharon Ke Sapne, Caravan to name a few. His contemporary work included Hum Kisi Se Kam Naheen, Qayamat Se Qayamat Tak, Jo Jeeta wohi Sikander, and Akele Hum Akele Tum.