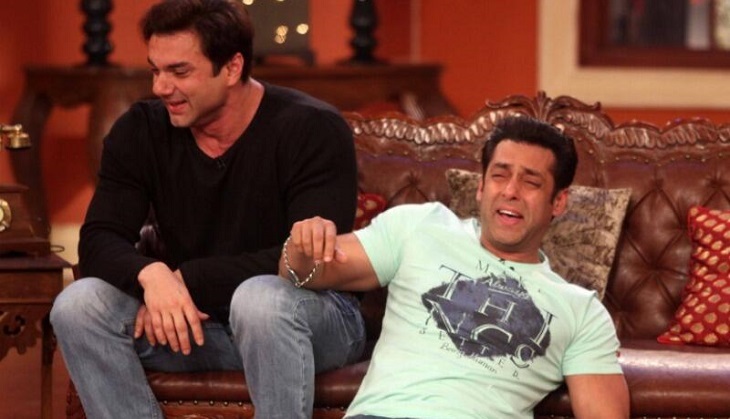 In every actor's career, there's a film which he initially thought would turn out to be a huge blockbuster. However, it turns out to be a dud and dashes his dreams. In Salman Khan's case, the dubious honour of being 'that' film goes to Hello Brother.
After the success of Pyaar Kiya Toh Darna Kya, Salman Khan and Sohail Khan decided to collaborate yet again for an out-and-out comedy film. In a hunt for the subject, Sohail came across a Malayalam film, Aayushkalam and reworked the subject of a man avenging his death, as a spirit.
The director rewrote the script keeping Bollywood sensibilities in mind and narrated the same to Salman, who loved it and instantly agreed to act in the film. While shooting, Salman and Sohail made a lot of changes in the script and added their own quirks in Salman's character, Hero. The shooting was wrapped up with Salman Khan, Arbaaz Khan and Rani Mukherjee and after giving the final touches, Sohail hosted a special screening for the star cast.
Also Read: #CatchFlashBack: Ajay Devgn and not Salman Khan was cast for Karan Arjun with Shah Rukh Khan
The entire cast was sure that they what they had in front of them was a classic comedy and a sure shot hit. After this positive response, Sohail and Salman decided to invite their family and close friends for a screening. Again, everyone except Salim Khan (who thought the film will do well on television) was of the opinion that Sohail had made a classic comedy film.
This made the Khan brothers so confident that they even registered a title 'Hello Daddy' for Hello Brother's sequel... Of course, that never took off.
Also Read: #CatchFlashBack: Hum Aapke Hain Koun was so huge that these facts will blow your mind
Armed with positive response from family and friends, the duo decided to screen the film for critics' and film distributors three to four days pre-release. Press shows were not a common phenomenon those days and the decision to screen the film for the media in advance shocked everyone.
What happened next is something the Khan Brothers won't ever forget. Both of them confidently welcomed all the media personalities. As the screening started, Salman and Sohail stood in the theatre to see whether the guests were laughing. Ten minutes ticked by, then 20, then 30... And no one cracked a smile, leave alone laugh. The brothers looked at each other. And then Salman said, "Chal daaru peete hai, yeh picture toh gai (Let's go drink, this film is a goner)."
Upon its release, Hello Brother was declared a flop at the Box Office. However as Salim Khan had predicted, it does get good ratings on television even today!
Till then, enjoy this song from the film: