Nawazuddin Siddiqui's Raman Raghav 2.0seeshim portray the character of a psycho killer. The actor, whose acting prowess ranges from enacting a cop to psycho businessman, is considered one of the strong pillars of content-driven Hindi cinema.
With Anurag Kashyap's Raman Raghav 2. 0 as well, the actor is expected to deliver yet another stellar performance. This time though, actors like Vicky Kaushal and Miss Earth India 2013, Sobhita Dhulipala, will also be seen sharing screen space with him.
Also read: I like to maintain a balance between Bajrangi Bhaijaan and Raman Raghav 2.0: Nawazuddin Siddiqui
In a recent interview with Catch, Nawazuddin Siddiqui spoke about how he prepares for a role and whether he really believes in the existence of commercial vs critically acclaimed cinema.
Excerpts from the interview:
You're playing a psycho killer Raman Raghav. How do you detach yourself from such characters after the film is over?
I would say that detaching is not that difficult. Actually, the process of attachment with such a character is more difficult than the process of detachment. You need to mold into what your character is, how he speaks, thinks and lives. Reaching that point is challenging and difficult.
Also read: Raman Raghav 2.0: A dark, volatile and unlikely coming-of-age duopoly
How do you prepare for your characters? Do you follow a certain pattern?
No. There's no pattern. You set your own pattern after analyzing the demand of your character. And it's different for every film. For instance, in Gangs Of Wasseypur, my preparation for the role developed or grew quite organically. In fact, sometimes, even when there was no scene written in the script and we just felt like adding one in the script, we would just act and form a new scene. Raman Raghav 2. 0 was a different experience as well.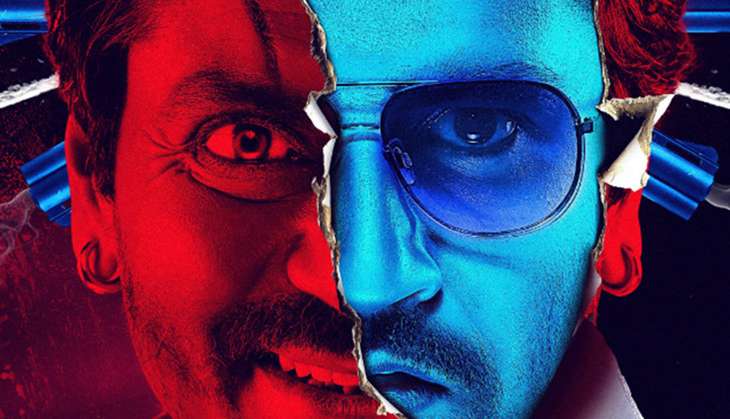 Raman Raghav 2. 0 poster
Do you think Anurag Kashyap's Raman Raghav 2. 0 has all the commercial elements?
Bilkul. There's everything in the film -- romance, action, songs and all other ingredients required for a good commercial film. Anurag can never make an art film. Inke aas paas ke log art film banate hain. He may think that he's making an art film, but that's just an illusion. (laughs)
Also read: Raman Raghav 2.0: Government should stop treating Bollywood like a secondary industry , says Anurag Kashyap
Do you believe in the difference between a commercial film and critically acclaimed cinema?
No. Not at all. A film is a film. It can be a good film or a bad film. The way it is with actors. Either there are good actors or bad actors. Actually, there're three kinds of actors -- Good actors, bad actors and Salman Khan.