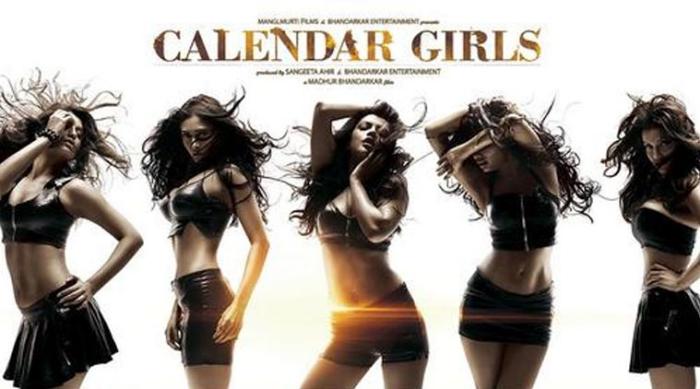 Madhur Bhandarkar\'s latest - about the fleeting fame of calendar girls and starlets - is his most repetitive and boring film
As usual, his dialogues and supporting actors are laughably bad
Filled with skimpily clad newcomers and offensive stereotypes
When British author Arthur Hailey made a career out of writing painfully researched novels on virtually every industry (Hotel, Airport, Wheels, Strong Medicine, The Evening News), little did he know that an Indian filmmaker would soon interpret - and reduce and downgrade - his concept into a series of smutty, exploitative, pseudo-whistleblowing, gossipy, sensationalist and trashy behind-the-scenes Hindi movies about exploitation, sleaze, smut, cleavages and too many willing adult ladies.
It's an absolute pity that the wrong whistleblower is under house arrest in an Ecuadorian embassy, because Madhur Bhandarkar makes a very strong case to be exiled from civilization with his latest, Calendar Girls.
Every one of the five girls here is a Bollywood newcomer, and I can't help but feel sorry for them - especially Ruhi Singh, the naive, young and ambitious Miss India participant from Nisha Pahuja's wonderful documentary The World Before Her, who practically bares all to move on from that real-life beauty pageant to be in Bhandarkar's despicable reel universe. If this - this dreadfully shallow calling card - is the result of her journey, the documentary is all the more compelling in hindsight.
Serial offender is back with another seedy exploration
Of late, a Madhur Bhandarkar expose is a sensory experience for film critics. Close your eyes once the movie begins. You'll immediately hear lines that seem to be written by three-year old wild Pandas forced to climb the Everest with no oxygen tanks. The first 'bro' (or 'dood', subject to the location of Lokhandwala's coffee shop they reside in) appears in the very first line, invariably spoken by supporting characters who have learned how to spell 'Gym' before learning the language.
Stilted accents and Mr Bhandarkar's interpretation of urban coolness aside, endearments like 'babes' and 'cheapo' appear soon after. A gay fashion designer is a must; only, this filmmaker considers homosexuality to be an extended epileptic fit, going by the way they move their hands and lips. The creators live in a parallel universe where they still visualise rebellion as pouty girls walking away from their families in slow-motion, promising to become Heroines, supermodels, or in this case, Calendar Girls. Cue guitar riff.
The formula is decidedly B-grade and immature
Each region is represented by poor dialects; girls are chosen from Hyderabad, Rohtak, Goa, Lahore (or London, depending on where Mr Bhandarkar thinks Pakistani artists fly in from) and Kolkata. After the racial stereotyping, mandatory lesbian innuendos are dropped, and the B-journey begins. Optimistic dialogue like "a beautiful adventure is awaiting for tomorrow" are followed by inevitable downfalls - one by tragic one. Then the classy swipes begin; Bhandarkar parodies everyone from twitter-hyperactive starlets to IPL fixers and enthusiasts. Apparently, you've made it in life if Bhandarkar uses a rowdy malnourished double to ridicule your existence.
Only, he doesn't intend to make a parody. His brand is supposed to be 'hard-hitting realism'. Never mind that he populates proceedings with usual suspects expressing themselves with a smugness and discretion that suggests they've discovered the only pure-veg restaurant in Amsterdam. His shady characters are the most puerile - they lick their lips, breathe hoarsely onto skin and air, drink from glasses with the rage of humans discovering water in deserts, and shift their gazes with the subtlety of glare-wearing directors in dark halls. What exactly is Bhandarkar's brief to them? - Act the way Hrithik Roshan would today if he re-watched discarded takes of Main Prem Ki Diwani Hoon?
All through, sex - suggestive groans and systematic sucking in of necks and hair strands - is a constant. One becomes an escort, the other a mistress, the third a submissive wife and so on. It's a wonder he hasn't used any lower forms of degradation to suggest degradation - yet.
I wonder if any industry insiders care anymore that their lives are hung out to dry by one of their own chaps. And it's not even fun to watch; newspapers, secret columns and channels give us enough fodder. Perhaps that explains why Bhandarkar scornfully taunts Mumbai's entertainment journalists - by promoting an anchor 'from entertainment to mainstream news' here, or even when Konkana Sen Sharma's film journo character craved for something less flimsy in Page 3. For once, however, Bhandarkar doesn't use cigarette smoking (or chewing, a la Kareena in Heroine) to suggest loose morals and corruption. He gets by just fine with alcohol, bikinis and rampant sexism.
It's consistently ironic that this director makes movies about women becoming victims of vice across glamorous fields, despite the fact that his films may actually be the gravest vice a newcomer will ever encounter.
Girls, Ban-darkar.