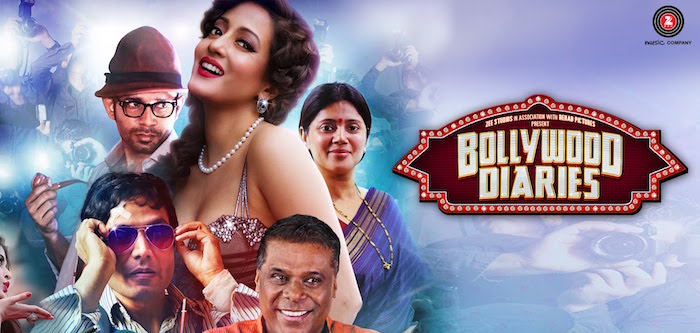 Rating: 3 stars
Tells the stories of three unrelated Bollywood aspirants
Thrives on some terrific acting and music
Debutant Salim Diwan is the standout performer
I was once part of a team auditioning actors for a Hindi film. There was a pit in my stomach each time they became noticeably desperate. Many performed while being escorted away, pleading for another chance - much like Rohit (debutant Salim Diwan, in Bollywood Diaries) when he confronts a well-known filmmaker at a hotel.
For the director's giggling starlets, this is unnerving and funny. But it's also the most interactive everyday form of tragedy - or as Yash Chopra's voice in Darr echoed, "When uncontrollable worship/love becomes a junoon (insanity)."
The "What If" phase of life
This film navigates the arcs of three unrelated, seemingly ordinary Indians who blur these lines. It's not about the typical buffed-up starry-eyed Lokhandwala strugglers. Instead, it tells the story of people who weren't quite brave enough to reach Lokhandwala - average folks who let average life happen while they were busy making other plans.
All roads lead to Mumbai
Rohit is a delusional call-center executive in Delhi. Vishnu (Ashish Vidyarthi) is a middle-aged government servant with suppressed acting ambitions in Bhilai, and Imli (Raima Sen) is a prostitute in Kolkata whose idol is Sunny Leone ("I have both the talent and - skills," she winks). For all of them, Mumbai is the only password. Imli is perpetually in search of tinsel town clients, and hits the jackpot when an assistant director (Vineet Singh; looks the part) visits while researching his next script.
Vishnu has gotten his daughter married, finished his patriarchal "duties", and now he wants that one final shot. "You promised me," he weeps to his disillusioned wife Lata (Karuna Pandey; cries with conviction) one night, like a child not being allowed to watch cartoons after finishing all his homework.
And Rohit, who has been a bathroom actor till now, uses a 'Talent Hunt' as a crutch to support his self-flagellating obsession. His conflict lies in the fact that nobody has told him that he is, in fact, a terrible actor.
On The Brink
All three are set up for heartbreak, yet director KD Satyam (wrote 'Gattu') explores their psyche with an unrelenting gaze. Throughout, you can't shake off a disturbing thought - that they're one rejection away from suicide. But none of them are inherently that fragile of spirit. It already takes an extraordinary kind of strength to even consider being any kind of artist. The illusion of Bollywood and fame is far removed from the reality of breaking in.
Ineffective Transitions, Memorable Moments
Satyam has technically made three disparate films. He abruptly cuts between, yanking us from one three-act world to another. But no one portion is inferior to another. There's a bit of magic in each: The way Rohit becomes a TRP darling for the reality show judges by going all "Leo" (drawing blood) every performance. Or the way an ailing Vishnu turns to a fraud Baba so that he can be reborn in a superstar household ("Hrithik? Shahrukh?" he asks. "2 and 3 children," Lata retorts). And the way playback songs are used to scale narrative peaks and lows; 'Manwa Behrupiya' floods our senses while Imli shoots for her portfolio in a brothel.
Fantastic Cast Of Actors
It seems mildly poetic that some unglamorous and impassioned acting bolsters a movie about wannabe stars. It's encouraging to see filmmakers finally tap in to the veteran stage presence of Ashish Vidyarthi. After the countless one-eyed, evil OTT villains he has essayed, one imagines that he - like Vishnu - is finally being allowed to truly express himself. Each time Raima plays a commercial worker on screen, she brings an appropriate mix of sexuality and dewy-eyed-ness to proceedings.
The revelation, though, is Salim Diwan. It's difficult to "act" as a bad actor without coming off as a bumbling caricature. He makes you feel sorry, like watching a colour-blind infant admiring a rainbow. He is loud, conflicted and silent at once, and gives perhaps the finest contextual renditions in recent times.
When the cheesy final tribute slate to "all Bollywood aspirants" appears, it seems fairly heartfelt. The film preceding it has already elicited admiration, anxiety and fear (in that order) for such souls. One hopes 'Bollywood Diaries' gets the kind of attention it lavishes on its subjects.