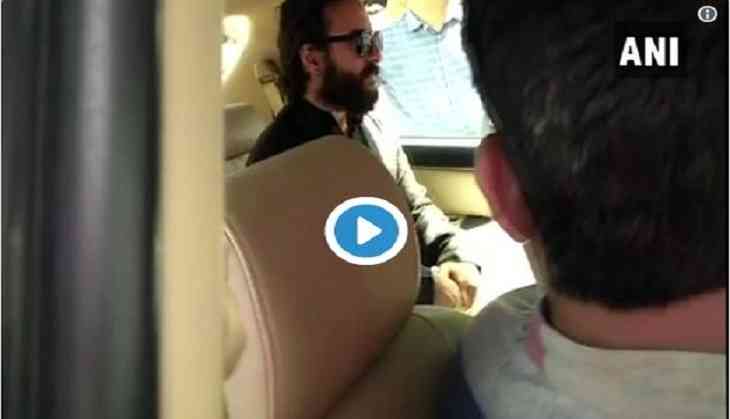 The verdict on blackbuck poaching case likely to announced today on Bollywood's actors Neelam, Tabu, Sonali Bendre, Salman Khan and Saif Ali Khan. As all the accused actors have been reached to the Jodhpur court today for a hearing.
The judgement on the actors has been announced by the Jodhpur court. Salman Khan found guilty in the matter while the rest actors get acquitted. As this is a high profile case which occurred in October 1998. The incident took place during the shoot of Hum Saath Saath Hain movie.
Well, a video of Saif Ali Khan who is also involved in the hunting of blackbuck has been viral on social media after he arrived at Jodhpur. In the viral video, Saif Ali Khan seems to be very frustrated.
Saif was outside Jodhpur airport in his car and there he was surrounded by media. For avoiding the media questions on the Blackbuck poaching case.
Due to saving himself from media questions, Saif got super-angry on his driver. In result, he shouted him. He said to his driver in a rude tone that, 'Sheesha upar karo aur reverse kar lo warna padegi ek.'
See video:
#WATCH: Actor Saif Ali Khan outside Jodhpur Airport says 'sheehsa upar karo aur reverse kar lo warna padegi ek' to his driver when he was being asked questions by reporters. Jodhpur Court will deliver verdict in blackbuck poaching case tomorrow. pic.twitter.com/n6AYIcHgY8

— ANI (@ANI) April 4, 2018
After such behaviour of Saif Ali Khan with his driver, Twitterati started trolling the actor.
Here's how Saif has been trolled on social media:
Shameless Nawabzaada😠😠

— Asha Bisht (@AashaBisht) April 4, 2018
Behavior of Padma award winner 👏👏👏👏

— Vignesh.V.Shanbhag (@vigneshshanbhag) April 4, 2018
This is the real face behind all that fan waving and fake smiles on camera.😨

— Aashrya Sharma (@AashryaS) April 4, 2018
Arrogance at its peak of fake Nawab...
Gaddi chali gayi..lekin Nawab-panthi nahi gayi in fake nawab-o ki...

— Ashim Mondal (@TheAshimMondal) April 4, 2018
Are waah humare Taimur Ali ke nawaabi papa apna nawabipan dikha rahe hain🤣 pic.twitter.com/4X4iKusG0P

— दुर्गा 🚩 (@_DurgaSaptShati) April 4, 2018
What do you think about Saif Ali Khan's rude behaviour? Write your views in our comment box.
Also read: Blackbuck Poaching Case: Salman Khan declared guilty by Jodhpur court; other accused Saif Ali Khan, Tabu, Neelam and Sonali Bendre acquitted