Within a month of their wedding, Karan Singh Grover and Bipasha Basu are back from their honeymoon in the Maldives. The much-in-love couple is all set to resume their respective professional duties even though the wedding hangover still persists.
In their first post wedding interview, the couple spoke to a leading daily about love, laughter and life. While Bipasha spoke about how the fact that this is Karan's third marriage didn't really bother her, Karan describes her as "a small, crazy child stuck in a hot woman's body".
Excerpts from the interview:
Karan on how busy Bipasha was planning the wedding:
Being particular is an understatement, she was anal about everything, and she just wouldn't rest. Few days after the wedding, she woke up in the middle of the night and asked me about which security is handling which door and where are the guests entering from!
Also read: 3 things Jennifer Winget said about Karan-Bipasha, being single & her new TV show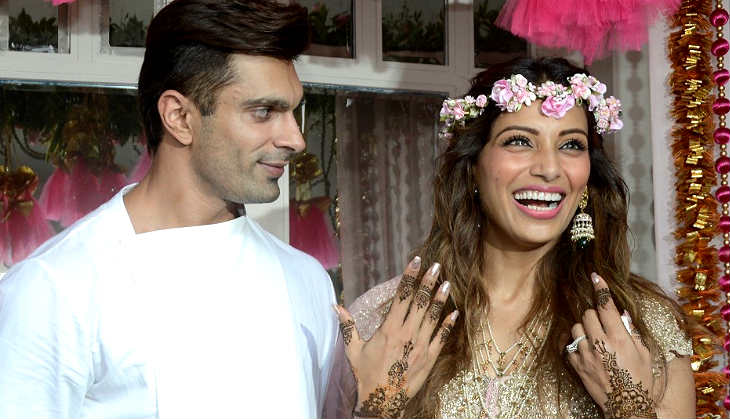 Karan Singh Grover, Bipasha Basu during their mehendi ceremony (IANS)
Karan on how he proposed to Bipasha:
We were in Koh Samui, it was 31 December and the sky was lit with fireworks. I was carrying the ring with me and something told me that this is the right time. So while she was capturing the fireworks on video, I took the opportunity and gave her the ring.
Also read: Karan Singh Grover's poem for Bipasha Basu is his heart gift-wrapped for her!
Bipasha on this being Karan's third marriage:
It didn't bother me and we spoke about it. I believe that everyone has a journey, and it is very easy for anyone to exclaim, "Oh...this is his third marriage, nahin chalega... divorce ho jaayega." I tell people that you have to be in someone's shoes to know their story and understand their journey. I feel I am lucky, as I live only for love. And no man has given me more love and respect than Karan. I believe you can't judge anyone for their bad relationships. I have had bad relationships, and I could have been easily married twice. The relationship could have been as deep, but I didn't fall into the legality and that is the only difference. You can't condemn someone on the basis of a piece of paper.
-- quotes from TOI