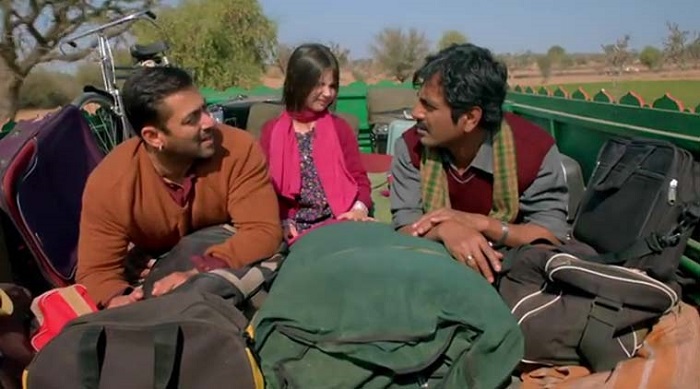 Nawazuddin Siddiqui talks about Salman Khan, Bajrangi Bhaijaan, Kick, Raees, his Bollywood journey and lots more. Read the interview below:
Q. How was it working with Salman Khan yet again after Kick?
A. It was wonderful spending time with Salman on the sets of Bajrangi Bhaijaan. I got a lot of time to interact with him after shoot. We shot together for almost 3 months and had lots of fun while shooting for the film.
Q. During Badlapur interview you said - "Bajrangi Bhaijaan's script will drive you crazy." Can you say the same after shooting for the film? Was Kabir Khan able to deliver on the things promised in the script?
A. The film has turned out to be better than the script and it is because of Kabir. He is the kind of director who takes the script to the next level. He likes shooting at exotic locations, creates a wonderful atmosphere, casts great actors who take the script to next level and that is how it should be. Film should always be better than the script.
Q. What challenges you had to face while shooting for you role of a Pakistani Journalist?
A. The biggest challenge for me was to get the technicalities right. I had to get the right Pakistani diction and had to get the body language right. I had to bring about a change in my language. People are same in India and Pakistan. However, there are some nuances.
Q. Is your character inspired from Pakistani journalist Chand?
A. I have seen his video on YouTube. I watched many such videos on YouTube for this character. Whatever Kabir and I found interesting, we incorporated in the character. It is difficult to write a character on basis of a video, so we had to work on the character.
Q. Is your screen space in the film more than what you got in Kick?
A. Yes, it should be more than that.
Q. Salman and Kabir had great things to say about Harshali Malhotra (Munni). What do you have to say about her?
A. Like Salman Bhai and Kabir said, Harshali is the real star of the film without any doubt and I will explain you why. Kids and animal give the toughest time to the actors. But they are the ones who act the best in films because the innocence with which they act cannot come out from an actor as you have grown up and you have a manipulative mind. But a child artist works with a lot of heart, and that is what works the most on screen. Salman Bhai and I used to step back when Munni used to work.
Q. Does your character have a comic touch in the film?
A. My character is a very positive character. It has a bit of comic touch but is not completely comedian.
Q. How has it been shooting for Raees?
A. I play a cop in Raees. The next schedule of Raees will take place in Ahmedabad. My character does not have a pure local dialect. I am not allowed to speak about the film as this is not the right time to do the same. I am done shooting for one schedule and the final schedule will start in September in Mumbai and Ahmedabad. I shot for a few scenes with Shah Rukh Khan in Raees. It was a wonderful experience shooting with him. He is so humble. The final schedule will be the big one.
Q. How do you differentiate between the three Khans?
A. I can't give you a statement differentiating between the three Khans. I think all three of them are just fantastic and working with them gives me a much bigger exposure. All the three Khans are very easy going and humble. I learnt one thing from them that despite being in the industry since last 30 years, they all are still very grounded.
Q.Tell us something about Manjhi-The Mountain Man?
A. Mountain Man releases next month and I am very excited for the film. My character in the film is the toughest till date as it is a story about a person who has done an extraordinary work. It is about a guy who live in the mountains for 22 years breaking it. I always used to wonder how someone can do such a great work.
Q. There are reports that you are approached for a negative role in Yash Raj Film's next with Hrithik Roshan. Any truth to that?
A. There is no truth at all in this news. I don't know from where do such news come. A few days back there were reports about me being a part of Sultan and even I got to know it after reading newspapers. After reading such news, I used to wonder "Yeh Kab Hua Re".
Q. Any actor you want to work it?
A. I want to work with Amitabh Bachchan and fortunately I am working with him in Kerala, directed by Sujoy Ghosh. I start shooting for the film very soon. It will be shot in Kerala and most probably it will be shot from start to finish in one schedule.
Q. Do you think Bajrangi Bhaijaan will go past Kick Box Office collection?
A. I am expecting a lot from Bajrangi Bhaijaan. I feel the film will earn much more than Kick and that is because of the content of the film. Bajrangi is a very simple and smooth film along with a very positive message.
Do you think it is necessary to have a big star in a film which aims to give a message like Bajrangi Bhaijaan or PK?
A. Definitely. It is very important to have a big star in a film like Bajrangi which tries to give out a message but in an entertaining way. Superstars have a great fan following and them being a part of a good film is beneficial to the entire industry.