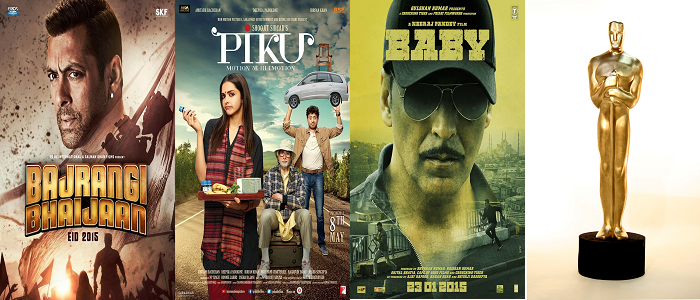 Eight films have been shortlisted for India's official entry at the Oscars this year by the Film Federation of India (FFI). Some of the titles are surprising, but then that seems to be FFI's hallmark. The federation had surprised the country in 2014 when it selected a Gujarati film called The Good Road instead of The Lunch Box which had been released to great acclaim and awards across the globe.
Last year too, India's official entry to the Oscars, Liar's Dice, got nowhere. In fact, in the history of India's submissions for the Oscars, only four films have been nominated as one of the five in the Best Foreign Language Film category at the Oscars - Mother India, Salaam Bombay, Lagaan and Water.
Films released from September 2014 till August 2015 are taken into consideration to be shortlisted. FFI will announce one film out of eight shortlisted as India's Official Oscar entry by mid-September. Let's see which film from FFI's shortlisted makes it for the 2016 Oscars.
Haider
Director - Vishal Bhardwaj
Cast - Shahid Kapoor, Shraddha Kapoor, Tabu
Starring Tabu, Shahid Kapoor and Shraddha Kapoor, this Vishal Bhardwaj directorial was an adaptation of William Shakespeare's Hamlet. The film was acclaimed by critics, and also did respectably well at the box office. Haider received National Awards this year in various categories.
Trailer:
Bajrangi Bhaijaan
Director - Kabir Khan
Cast - Salman Khan, Kareena Kapoor, Nawazuddin Siddiqui
No one would ever have imagined a Salman Khan film contending for an Oscar, but this is life. Strange things happen. The film opened to good reviews in India and was lauded across the world for its message of Indo-Pak peace. This translated into great box office figures, and Indian film critics have recommended the film for a National Award nomination next year.
Trailer:
Piku
Director - Shoojit Sircar
Cast - Amitabh Bachchan, Deepika Padukone, Irrfan Khan
A heart-wrenching story about a father-daughter relationship, this Amitabh Bachchan and Deepika Padukone film questioned the Indian mentality that takes daughters for granted, and makes strong feminist statements. For Independence Day, Catch Live had shortlisted Deepika Padukone's character of Piku as one of the strongest female characters in Bollywood.
Trailer:
NH 10
Director - Navdeep Singh
Cast - Anushka Sharma, Neil Bhoopalam
Inspired by the film Forrest Gump, NH 10 was about a journey that went terribly wrong. Narrated as a thriller, the film represented women's empowerment as it told the story of the transformation of a pretty girl from Delhi into a strong woman seeking revenge. The film did reasonably well at the box office and found appreciation from the critics.
Trailer:
Baby
Director - Neeraj Pandey
Cast - Akshay Kumar, Anupam Kher, Taapsee Pannu
A thriller dealing with terrorism, Baby is about a team of four people on a mission to bring a terrorist back home alive. Critics called it Akshay Kumar's best performance.
Trailer:
Masaan
Director - Neeraj Ghaywan
Cast - Richa Chadda, Shweta Tripathi, Vicky Kaushal, Sanjay Mishra
Masaan made India proud at Cannes Film Festival by getting rewarded with the FIPRESCI Prize and Promising Future Prize. Once released in India, it was equally appreciated for its simple take on reality Banaras, the heartland of India. Masaan is one of the top contenders for the Oscars.
Trailer:
Qissa
Director - Anup Singh
Cast - Irrfan Khan, Tisca Chopra
A critically acclaimed film across the globe, Qissa, starring Irrfan Khan, had a very limited release in India, which meant it had no chance to become popular. However, film critics loved it and it won the Neptac Award for International Asian Film at the Toronto Film Festival.
Trailer:
Lateef
Director - Israr Ahmed
Cast - Nawazuddin Siddiqui, Murli Sharma
Lateef was shot years ago, but only released in June 2015 to a poor box office response (because of limited shows), but much acclaim from critics. It is a thriller revolving on a middle class man's dream to become a doctor and what happens when he is arrested in a drug raid.
Trailer: