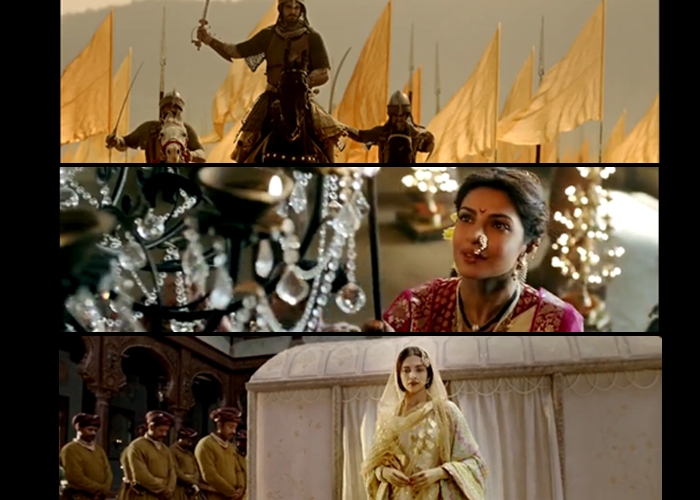 The trailer of Sanjay Leela Bhansali's Bajirao Mastani is finally out. The film stars Ranveer Singh as Maratha Peshwa Bajirao I, Deepika Padukone as his second wife Mastani and Priyanka Chopra as his first wife Kashibai. The trailer is packed with epic battle scenes and the vast reign of this Maratha warrior is depicted in a larger-than-life fashion. Here are the five takeaways:
1. The close to three minute video has no dialogues. The haunting background score and strong visuals successfully whip up an appetite for the film.
2. The only dialogue appears at the end of the trailer in which Ranveer says - "Bajirao Ne Mastani Se Mohobbat Ki Hai, Aiyashi Nahi."
3. Deepika Padukone as Mastani is much more than a beautiful wife of a warrior. Like Bajirao, she is also a warrior and is seen doing some stunning action scenes.
4. Priyanka Chopra as Kashibai looks the typical Maratha queen.
5. Ranveer Singh as Maratha Peshwa Bajirao I looks fierce and regal. If one goes by the trailer, the film could turn out to be a career altering performance for Ranveer.
Produced by Kishore Lulla and Sanjay Leela Bhansali, Bajirao Mastani is releasing on December 18, 2015.
You can watch the trailer here.