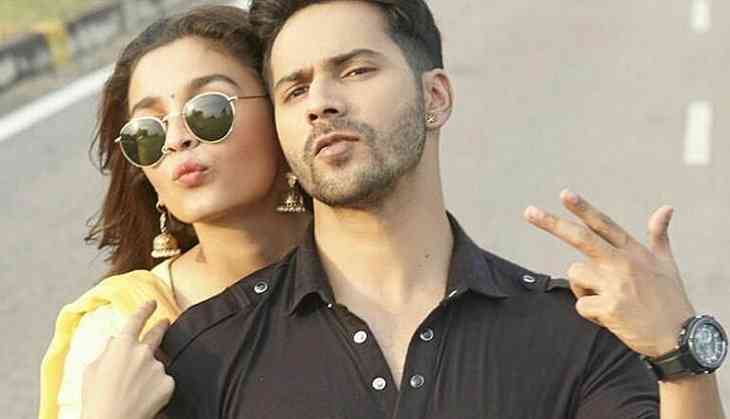 Varun Dhawan and Alia Bhatt in Badrinath Ki Dulhania
Badrinath Ki Dulhania, the movie and Badri , the lead character have their heart in the right place. The movie and the character tend to lose their focus once in a while, but all that's forgiven as they both quickly come back to being endearing and delightful.
Badri belongs to a typical patriarchal family in Jhansi. His father makes all decisions and the mother and rest of the family members are mute spectators, however illogical and egoistic his actions are. Things happen only if babuji (Rituraj Singh) gives permission and if anybody even tries to be rebellious, Babuji quickly feigns a heart attack. Badri's older brother is not 'allowed' to marry a girl of his choice and later his wife is not allowed to work, in spite of her glowing qualifications. Badri, a simpleton, doesn't break his head over these things too much until he meets the firebrand Vaidehi (Alia Bhatt) from Kota. In direct contrast to his personality, Alia is smart, tough, ambitious, and has already seen some rough edges in life.
Badri promptly falls for Vaidehi but she is in no mood to reciprocate. What follows is a delightful building up of a love story that goes through a few hurdles.
All credit to Shashank Khaitan's writing and execution that it touches upon quite a few relevant social issues, without once making it sound preachy and as a bonus presenting it with dollops of refreshingly clean humour.
The first half is rip roaringly funny, but the second half dips a bit in energy. There is another sore point. While Khaitan taking up for girl children and women is laudable, but surprisingly he demonstrates a kind of inverse sexism in one scene where Badri is molested by a bunch of goons, and the other characters laugh it off. What is bad for the gander, should definitely be bad for the goose too.
While Alia Bhatt has managed to steal the scenes from each of the movies that she has appeared in, this time Varun Dhawan clearly scores better than even her. Varun is brilliant as he goes about displaying his vulnerable self hidden behind a false bravado. Alia and Varun share an easy yet crackling chemistry, which we were witness to even in the prequel of this film, Humpty Sharma Ki Dulhania. One can't get enough of seeing these two together. Sahil Ved, Yash Sinha, Shweta Basu Prasad etc give good support.
At one point of time, Yaar kya karoon samajh nahi aa raha...says Badri in desperation and exasperation to his best friend, Someshwar. (Sahil Ved) This in a way speaking for the dilemma of many young men who are caught somewhere between wanting to be fair to the women in their lives, but conditioned to think and behave otherwise. Hope this makes movie at least slightly makes them get a clarity in the right direction.
Watch it for sure.
Rating: 3.5 stars