Over the years, Bollywood has garnered a reputation of being a film industry that rides solely on star power. The world's largest film industry is thought to be one where the glamorous star cast decides the success of a film, while quality content is often pushed to the backseat.
In the last 60 years, Bollywood has seen the rise and fall of stars like Dilip Kumar, Raj Kapoor, Dev Anand, Dharmendra, Rishi Kapoor, Sunny Deol, Akshay Kumar, Ajay Devgn and Hrithik Roshan. Tinsel town has also seen a number of films that have managed to strike gold at the Box Office without a high-profile star cast.
But what does it take for an actor to bag the superstar tag? What separates these two categories of hard-working artistes?
Box Office collections an aside, it is the mass hysteria that separates a star from a superstar. Crowds flock to watch a film simply because it stars a particular actor. No matter the content of the film or its packaging, a film helmed by a superstar will always reap the benefits of a loyal, first day, first show audience - comprising mostly the actors' massive fanbase.
While the term superstar is used rather loosely in the industry today, here are five Bollywood actors who deserve this label in its true sense:
1) Rajesh Khanna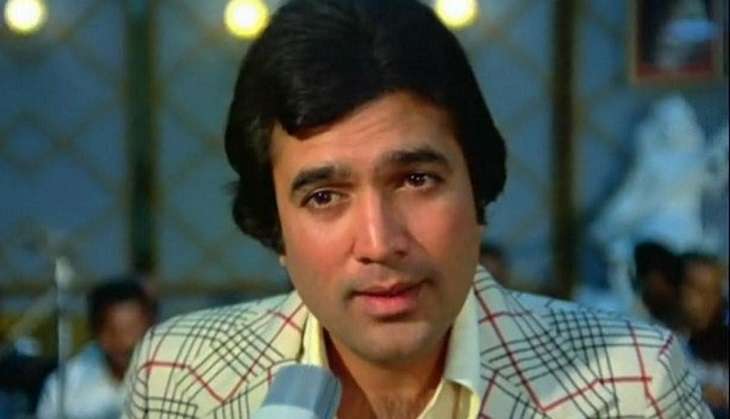 Rajesh Khanna (File Photo)
Rajesh Khanna is often referred to as the first superstar of Indian Cinema. While he may have only enjoyed a short period of five to six years as the reigning superstar, at his peak, 'Kaka' enjoyed a cult following that is still every aspiring actor's dream.
Senior Bollywood journalist Dinesh Raheja put it best when he wrote: "It is difficult to express the stardom of Rajesh Khanna in few words. He is a superstar whose car would be full of kisses when parked at a parking lot of an eatery or any other place".
While some of his initial film sank without a trace, viewers first sat up and took notice of Rajesh Khanna in Iteefaq and Aradhana. Many often get carried away when they say 'Kaka' delivered 14 hits in five years, as some of these films underperformed at the Box Office. Films at the time were labelled as hits or flops depending on the number of weeks it ran at the cinemas - a far cry from the current mechanism. That being said, his success rate is still untouched, decades after he tasted superstardom.
Rajesh Khanna was loved by viewers from all ages - from 6 to 60. It is impossible to talk about his fan following without a mention of his appeal among female viewers. Rajesh Khanna's potrayal of the lover - in a variety of shades - helped him gain a few crazy fans. Legend has it that some of these love-struck ladies married the actor's photograph.
While a number of other actors tried to emulate the success of Rajesh Khanna, not even Amitabh Bachchan could re-create the mass hysteria that 'Kaka' - the original superstar - commanded during his reign as superstar.
2) Amitabh Bachchan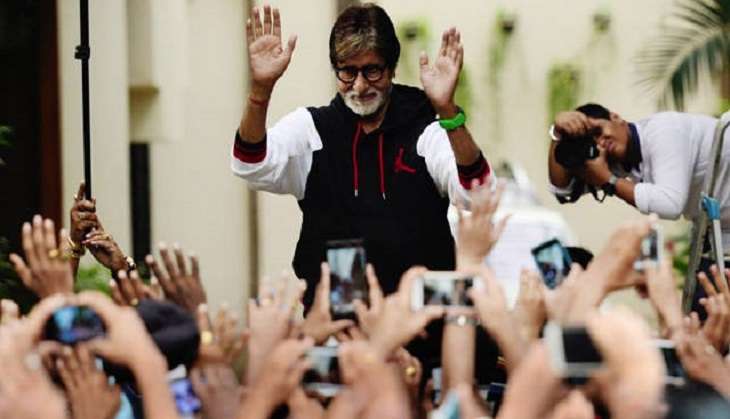 Amitabh Bachchan (File Photo)
Amitabh Bachchan's four-decade-long body of work is proof that he rightfully deserves the superstar tag. In terms of his still-expanding filmography, Big B continues to experiment with roles in a spectrum of shades and complexities - something his peers and fans have always admired. During his relatively-steady reign over Bollywood, Bachchan - or Big B as he is fondly referred to - won over filmmakers, viewers and the Box Office.
While he was initially turned down for his lanky frame and husky voice, his 'unconventional' looks and voice became his USP after the release of Zanjeer (1973). After Salim-Javed spotted the iconic 'Angry Young Man' in a then-unknown Bachchan, he went on to collaborate with a number of iconic directors.
"While he was presented as a larger than life person by the likes of Manmohan Desai and Ramesh Sippy, Hrishikesh Mukherjee tapped the actor in him and got him the much required respect," Raheja wrote.
Comparing the stardom of Rajesh Khanna and Amitabh Bachchan, Dinesh Raheja wrote: "As against Rajesh Khanna who commanded massive following among the female audience, Amitabh Bachchan was loved majorly by the men because of the angry young man and intense lover image".
Big B's massive fan following came out in hordes in 1982 when he sustained an injury during the shooting of Coolie. Fans - from all over - flocked to Mumbai's Breach Candy hospital and held a vigil outside the hospital, praying for his speedy recovery.
Bachchan's almost-hypnotic hold over the Box Office is a thing of legend. Even flop Amitabh Bachchan films like Toofan, Ganga Jamuna Saraswati would consistently record 100% occupancy throughout the first and second weeks at the Box Office. The attendance would dip after the word-of-mouth spread, but procuring a ticket to watch a Bachchan film in those first few weeks was almost impossible task.
It is important to note that despite being hailed as superstars themselves, a number of other well-loved actors of the time - like Dharmendra - failed to match up to Bachchan's universal appeal.
Bachchan's claim to superstardom is further verified by the very influence he wields on his peers and the countless actors who have made their debut after him. While there are, of course, the actors who steered clear of the Bachchan wave, actors like Anil Kapoor, Jackie Shroff and Sanjay Dutt have all been vocal about their admiration of Bollywood's Shahenshah.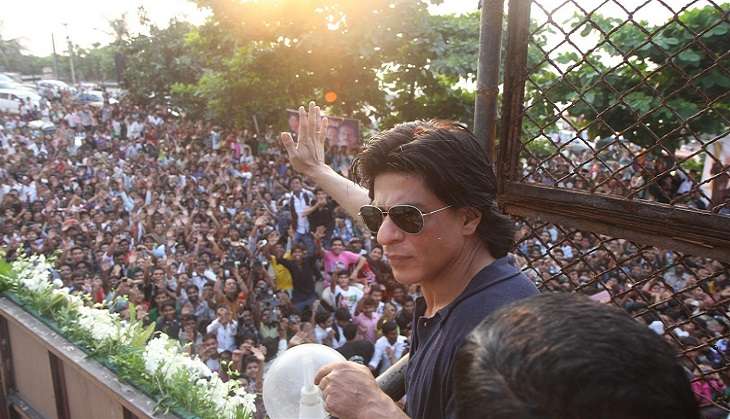 Shah Rukh Khan with Fans
Shah Rukh Khan successfully took over from Rajesh Khanna as Bollywood's new king of romance. Interestingly, he managed to bag that label despite also experimenting with a number of grey characters, like his role in Darr (1993).
He delivered hits at regular intervals between 1996 and 2010, a period during which he also helped take Bollywood to viewers outside India. A number of nationalities around the world still recognise Bollywood only because of Shah Rukh Khan.
Many have tried their hands at stepping into the shoes of Bollywood's king of romance and have failed. Shahid Kapoor, Vivek Oberoi and R Madhavan were a few of the many actors who were labelled the 'New Age Shah Rukh Khan' upon their debut. However, no one could match the charisma of King Khan. While he seldom shies away from unique roles on screen, off the big screen, SRK often makes news for his charm and wit.
He is also probably Bollywood's last superstar to be remembered by a signature pose. If you want to understand the phenomenon that is Shah Rukh Khan, all you need to do is to visit his bungalow, Mannat, in Bandra on his birthday. Bollywood would have been a very different place without its Baadshah.
4) Salman Khan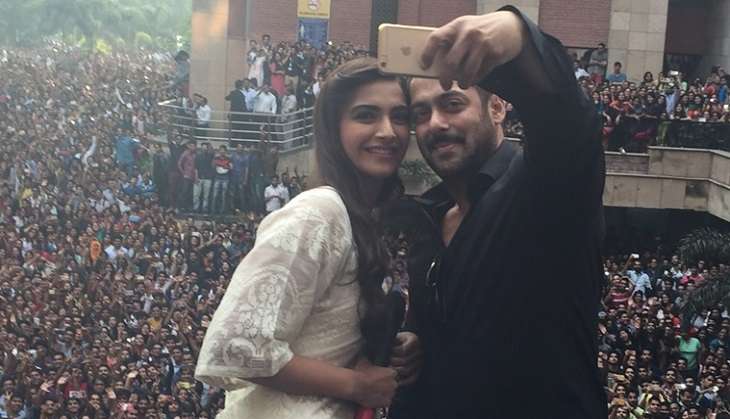 Salman Khan and Sonam Kapoor during PRDP promotions
Salman Khan is probably the most complex Bollywood star of them all. Despite being one of Bollywood's most controversial actors, Salman has ruled over the Box Office for almost three decades.
He became a household name in 1995 after the release of Hum Aapke Hai Koun! His professional and personal life took a hit during the 2000s. But Salman's loyal and growing fanbase flocked to the theatres to watch some of his critically-panned films - like Tere Naam, Garv, Lucky: No Time For Love, Maine Pyaar Kyun Kiya, No Entry, Partner. The result? They all opened to a bumper response.
Salman made a comeback for the ages with Wanted (2009), followed by Dabangg (2010). The superstar has been almost unstoppable since Dabangg. Each of his films raises the bar higher in terms of Box Office numbers.
While SRK can boast of an international fan following, it was Salman who was responsible for opening the gates of a valuable, commercial overseas market for Bollywood films with Hum Aapke Hai Koun.
His Prem could give other actors - who were trying their hand at the romance genre - a run for their money. His Bajrangi Bhaijaan won over some of his most hardened critics. Salman's appeal across India - from the rural areas to the bustling metros - is phenomenal, to say the least. Love him or hate him, you can't deny that Bollywood's Sultan is a superstar unlike any other.
Not only has his stellar record made him a bankable star for filmmakers, Salman Khan is also one of the most keenly-imitated actor in Bollywood today. One only has to witness the kind of reception he gets from the viewers in theatres (especially the single screen) to truly understand the magic that is Salman Khan.
5) Aamir Khan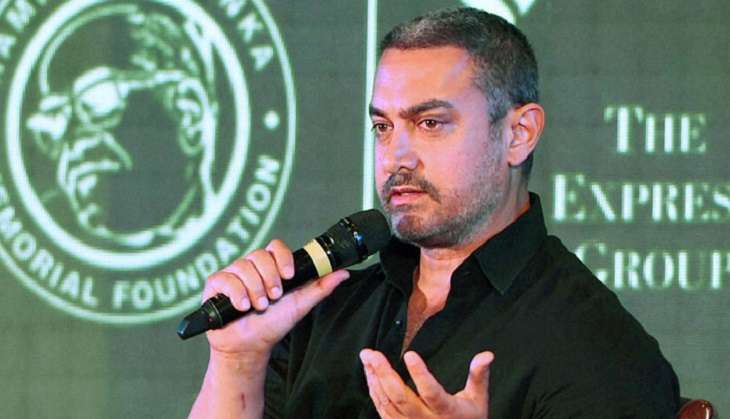 Aamir Khan (File Photo)
Professional rivalries an aside, Salman and Shah Rukh are also known for their loyal fan clubs, who are constantly at loggerheads over who the better actor is. It may not be easy to spot such a boisterous fan club dedicated to Aamir Khan. While this may be the case, there is no denying the fact that Aamir has managed to carefully carve a niche of his own in the big, bad world of Bollywood.
Aamir is the mirror opposite of the image of the flamboyant superstar, choosing instead to be a rather low-key celebrity. Having said that, Aamir has also garnered a reputation for being the most-consistent and trusted actor in Bollywood's history. He seems to take his 'Mr Perfectionist' tag very seriously, as he carefully picks scripts and projects that have always managed to leave a mark. His films marry content-driven and commercial cinema in a way that often sets the Box Office on fire.
His record has helped him achieve something that not many Bollywood actor can claim to have done. It won him the trust of viewers across the board. "Aamir Khan ki film hai, kuch acha toh hoga hi". How often have you heard someone say this? His films Taare Zameen Par, 3 Idiots and PK - to name a few - are testament of Aamir's rightful place as one of Bollywood's superstars.
End of an era?
Interestingly, all of the above-mentioned actors have managed to achieve the tag of superstar for unique reasons. However, of late, a number of Bollywood players have opined that the Khan trio - Salman, Shah Rukh and Aamir - are the last superstars of tinsel town. They argue that the superstar phenomenon will no longer hold any value in a world where viewers are increasingly opting for quality cinema over the mere presence of an actor with a large fan base.
What do you think of our list of superstars? Do you think the Khans will be the last superstars of Bollywood? Is this the end of superstardom in Bollywood as a whole? Will Bollywood fan clubs around the world see a slow demise? What about the relatively-younger crop of actors who are experimenting with different genres and plots? Tell us in the comments.
-- Edited by Blassy Boben